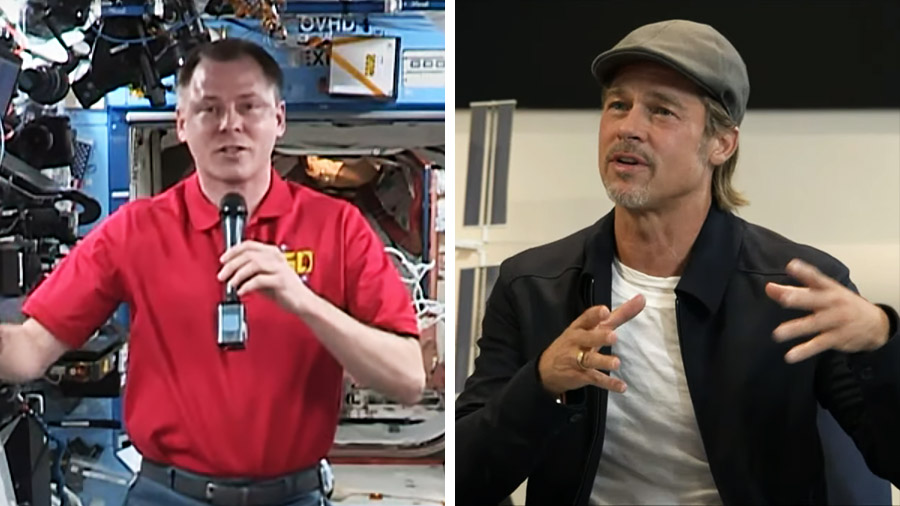 The six Expedition 60 crewmembers aboard the International Space Station began the workweek exploring how microgravity affects a variety of biological systems. Back on Earth, three new crewmates are in final preparations for next week's launch to the orbiting lab from Kazakhstan.
Flight Engineers Nick Hague and Andrew Morgan started Monday morning collecting and stowing their blood and urine samples for later analysis. Afterward, the pair joined fellow NASA astronaut Christina Koch for body mass measurements using a device that applies a known force on a crewmember. The resulting acceleration is used to accurately calculate an astronaut's mass.
Hague spoke to actor Brad Pitt today who called up to the station from NASA Headquarters in Washington, D.C. They talked about Pitt's upcoming movie and discussed what it is like to live in space.
Koch also assisted ESA (European Space Agency) astronaut Luca Parmitano with a bioelectrical sensor that measures changes in body composition to determine the effectiveness of space nutrition. The duo, along with Morgan, then turned to rodent research the rest of the day for insights into aging and disease therapies.
Commander Alexey Ovchinin collaborated with fellow cosmonaut Alexander Skvortsov for cardiology research during an exercise session Monday morning. The commander then inspected hardware inside the Electromagnetic Levitator that enables the safe research of materials exposed to high temperatures. Skvortsov moved onto ventilation maintenance in the Zvezda service module. The duo wrapped up the day with an Earth photography session.
The next crew to launch to the station is at the Baikonur Cosmodrome in Kazakhstan for final mission training. Expedition 61 crewmembers Jessica Meir of NASA and Oleg Skripochka of Roscosmos will blast off on Sept. 25 aboard the Soyuz MS-15 spacecraft with Spaceflight Participant Hazzaa Ali Almansoori. The trio from the U.S., Russia and the U.A.E. will take a four-orbit, near six-hour ride in space before docking to the aft port of Zvezda.
Almansoori will return to Earth on Oct. 3 aboard the Soyuz MS-12 spacecraft with Hague and Ovchinin. Meir and Skripochka will orbit Earth until the spring of 2020.
Ground personnel are fueling the Soyuz MS-15 crew ship and integrating the spacecraft to its launch vehicle this week. The rocket with the Soyuz on top will roll out to its launch pad early in the morning on Sept. 23.