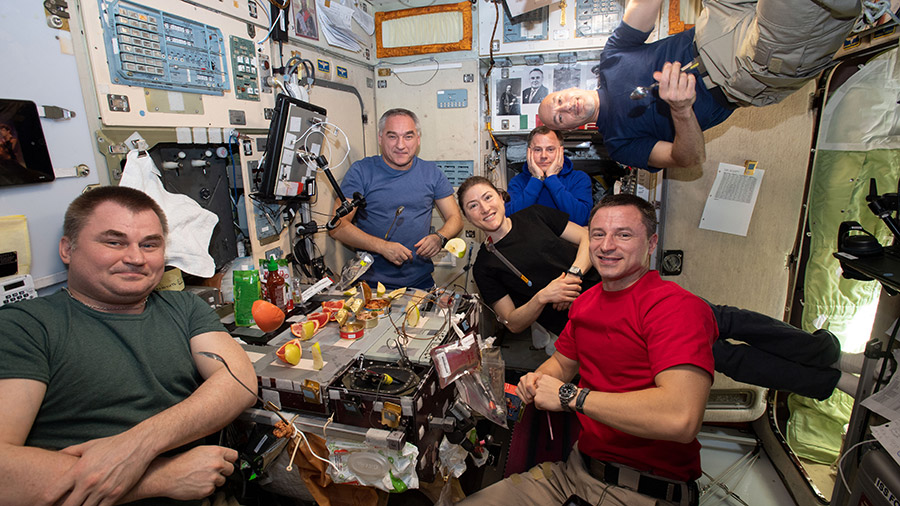 The six residents aboard the International Space Station continued more biomedical science and rodent research to improve human health on Earth and in space. The Expedition 60 crew is also gearing up for a crew swap beginning next week.
NASA Flight Engineers Christina Koch and Nick Hague started Tuesday drawing their blood samples and spinning them in a centrifuge. The samples were stowed in a science freezer for later analysis to help scientists understand how astronauts adapt to microgravity.
Koch then spent the rest of the day with crewmates Andrew Morgan of NASA and Luca Parmitano of ESA (European Space Agency) observing space-caused cellular and molecular changes in mice. The rodents' genetic similarity to humans may provide therapeutic insights into aging and muscle ailments.
Hague is getting ready to return to Earth on Oct. 3 after 203 days in space. He and Commander Alexey Ovchinin are packing gear and familiarizing themselves with the landing procedures they will use inside the Soyuz MS-12 spacecraft. The duo will return to Earth with a new crewmember, Spaceflight Participant Hazzaa Ali Almansoori, who will arrive at the orbiting lab next week for an eight-day stay.
Almansoori, from the United Arab Emirates, is joining NASA astronaut Jessica Meir and Roscosmos cosmonaut Oleg Skripochka for a launch to the station on Sept. 25. The trio will lift off inside the Soyuz MS-15 spacecraft from Kazakhstan for a five-hour and 48-minute ride to the aft-end of the Zvezda service module where they will dock. Meir and Skripochka will stay in space until April of 2020 and return to Earth with Morgan.