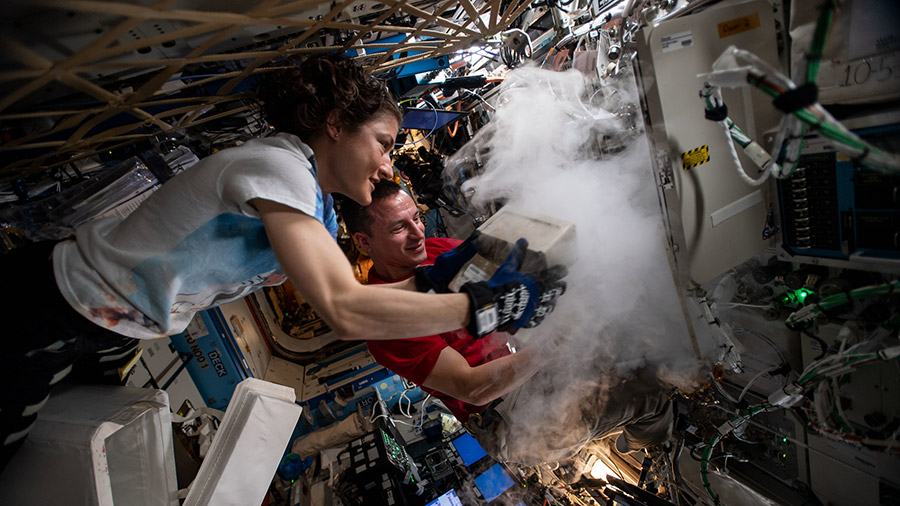 A Japanese space freighter is on track to deliver more than four tons of cargo to the International Space Station on Saturday morning. The Expedition 60 crew is preparing for its arrival while also researching a variety of microgravity phenomena.
Flight Engineers Christina Koch and Andrew Morgan are practicing on a computer the techniques they will use to maneuver the Canadarm2 robotic arm and capture the HTV-8 resupply ship on Saturday. The duo will be in the cupola monitoring the cargo craft's approach when Koch will command the Canadarm2 to reach out and grapple the HTV-8 at 7:15 a.m. EDT.
Astronaut Luca Parmitano of ESA (European Space Agency) started his morning playing with slime for the Non-Newtonian Fluids in Microgravity experiment. Koch and Morgan joined him for the fun research being filmed for students on Earth to excite them about space research.
New station resident Jessica Meir of NASA began her day observing and photographing protein crystal samples in a microscope. The research is exploring cancer therapies targeting a protein responsible for tumor growth and survival.
Meir and the station's other new crewmates, cosmonaut Oleg Skripochka and spaceflight participant Hazzaa Ali Almansoori of the United Arab Emirates, joined the rest of the station crew to review their roles in the event of an emergency. All nine crewmembers practiced evacuating the station, communications and using safety hardware during the afternoon.
Commander Alexey Ovchinin and Flight Engineer Nick Hague are less than a week away from returning to Earth after 203 days in space. They are finalizing packing and readying their Soyuz MS-12 spacecraft for the undocking on Oct. 3. The duo will parachute to Earth with Almansoori aboard their Soyuz crew ship and land in Kazakhstan.