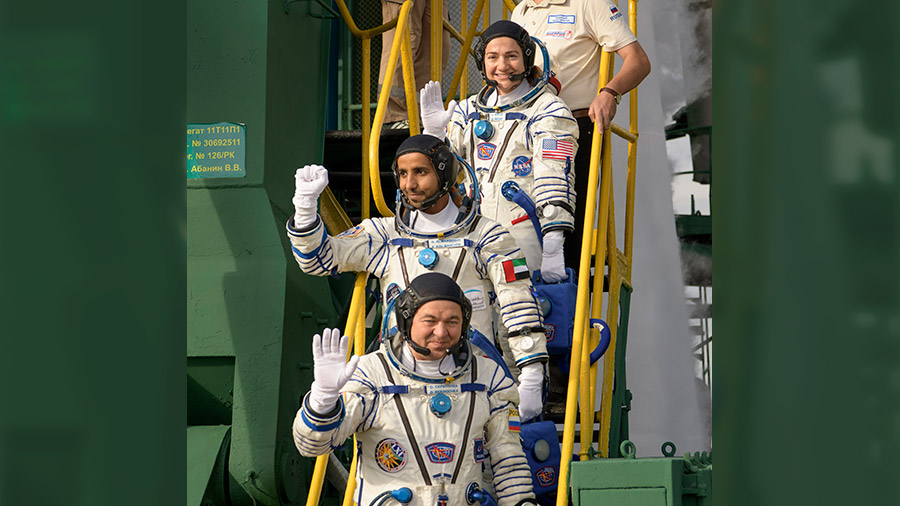 Live launch coverage is underway on NASA Television and the agency's website for the targeted lift off at 9:57 a.m. EDT (6:57 p.m. Kazakhstan time), of a Soyuz spacecraft from the Baikonur Cosmodrome in Kazakhstan. NASA astronaut Jessica Meir, Oleg Skripochka of the Russian space agency Roscosmos, and Hazzaa Ali Almansoori from the United Arab Emirates (UAE) will embark on a four-orbit, six-hour journey to the International Space Station. This will be the third spaceflight for Skripochka and the first for Meir and Almansoori. Almansoori is flying on an eight-day mission as a spaceflight participant under a contract between the UAE and Roscosmos.
The crewmembers will join station commander Alexey Ovchinin of Roscosmos, NASA astronauts Christina Koch, Nick Hague and Andrew Morgan, ESA (European Space Agency) astronaut Luca Parmitano, and Roscosmos cosmonaut Alexander Skvortsov, increasing the space station population to nine people for eight days. The crewmembers of Expedition 61-62 will continue work on hundreds of experiments in biology, biotechnology, physical science and Earth science aboard the space station.
The new crew members will dock to the station's Zvezda service module Sept. 25 at 3:45 p.m. NASA TV coverage will begin at 3:00 p.m.
Get space station news, images and features via social media on Instagram at @iss, ISS on Facebook, and on Twitter @Space_Station and @ISS_Research.