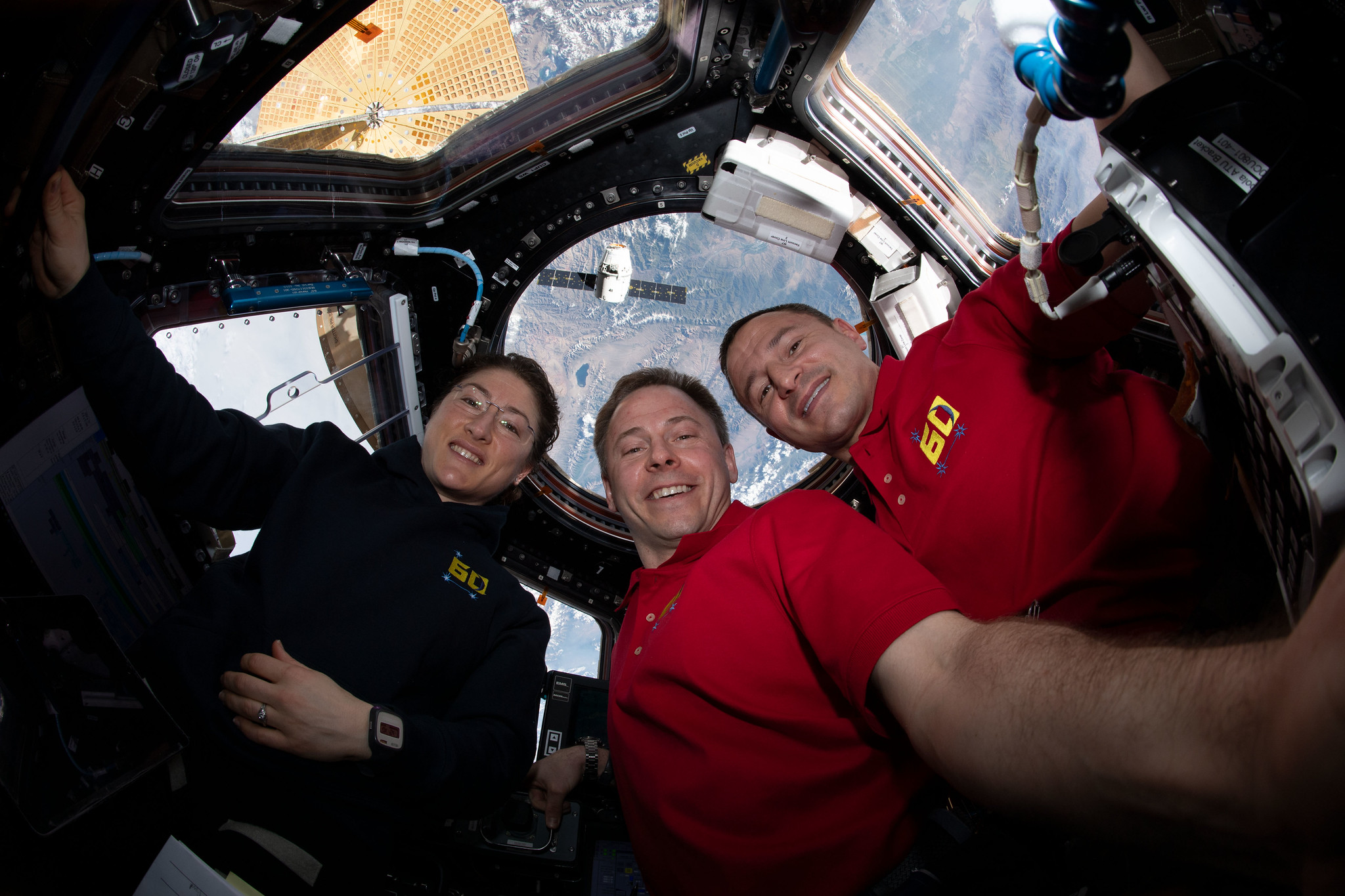 As cosmonaut Oleg Skripochka, NASA astronaut Jessica Meir and spaceflight participant Hazzaa Ali Almansoori ready for their Sept. 25 launch aboard a Soyuz MS-15 spacecraft, tomorrow they will pause in their mission preparations for the ceremonial laying of the flowers at the Kremlin Wall. On Sept. 10, the same day the H-II Transfer Vehicle-8 (HTV-8) is scheduled to take off from the Tanegashima Space Center in Japan for the International Space Station, the new crew will depart for the Baikonur Cosmodrome in southern Kazakhstan. 
Meanwhile, Expedition 60 crew members balanced their workload between preparing for upcoming vehicle activities from and to the space station and investigations that will give scientists deeper insight into the human body in space … and on Earth.  
NASA astronauts Nick Hague and Andrew Morgan performed eye exams in support of Fluid Shifts, which studies how fluid movement — from the lower body to the upper body, in or out of cells and blood vessels — can impact changes in vision and eye structures for astronauts, as well as uncomfortable cranial pressure during spaceflight. Morgan, along with crewmate Christina Koch of NASA, are also reviewing rendezvous and capture training for HTV-8, which will be robotically maneuvered to attach to the Harmony module in just over a week.  
Flight Engineer Luca Parmitano of ESA (European Space Agency) worked with the Biomolecule Extraction and Sequencing Technology (BEST) investigation, completing cell sample transfers. BEST evaluates the feasibility of sequencing to identify unknown microbial organisms living aboard the orbiting laboratory. One added benefit, too, is the experiment furthers research in understanding how humans, plants and microbes adapt to microgravity.  
Housekeeping continued as cosmonauts Alexander Skvortsov and Alexey Ovchinin added more cargo to the Soyuz MS-14 for a return to Earth, sans crew, Friday, Sept. 6. 
Learn more about station activities by following the space station blog, @space_station and @ISS_Research on Twitter, as well as the ISS Facebook and ISS Instagram accounts.