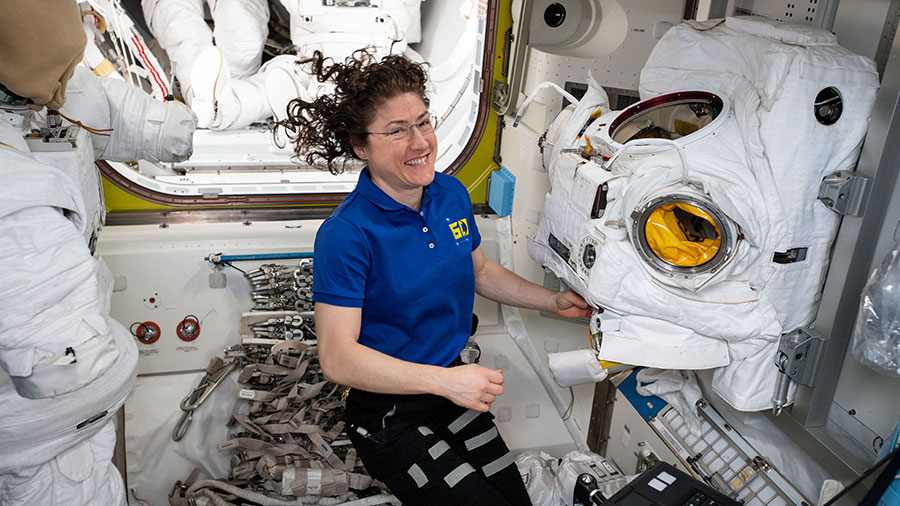 The International Space Station is gearing up for a record pace of spacewalks this year. The Expedition 61 spacewalkers will upgrade the orbiting lab's power systems and repair a cosmic particles detector. NASA TV will preview the upcoming spacewalks during a live briefing on Friday at 2 p.m. EDT.
The first spacewalk is set for Sunday, Oct. 6, with NASA astronauts Christina Koch and Andrew Morgan. The duo will begin installing new lithium-ion batteries delivered last week aboard Japan's HTV-8 cargo craft. There will be four more spacewalks in October to continue the activation of the new batteries on the station's Port-6 truss structure.
ESA (European Space Agency) astronaut Luca Parmitano will assist the spacewalkers in and out of their spacesuits as well as guide them during their spacewalk. He and Flight Engineer Jessica Meir joined Koch and Morgan on Tuesday for a procedures review and conference with specialists on the ground.
Another set of spacewalks will see the installation of an upgraded thermal control system on the Alpha-Magnetic Spectrometer (AMS) that has been in service since May 2011. The automobile-sized astrophysics device, attached to the Starboard-3 truss structure, is seeking evidence of antimatter and dark matter. The AMS uses a magnetic field to detect and identify the sign of electrically charged cosmic ray particles.
Koch has reached the 200-day milestone today in her extended mission aboard the space station. She will stay in space for more than 300 days and set a record for the longest single spaceflight by a woman, eclipsing the record of 289 days set by former NASA astronaut Peggy Whitson in 2016-17.