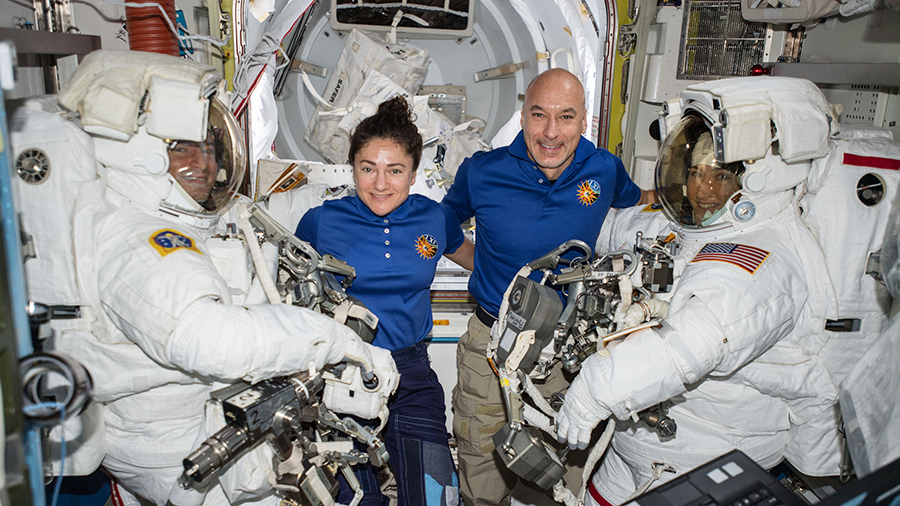 Four of the six Expedition 61 crewmembers are relaxing today before ramping up final preparations for Friday's spacewalk. The two cosmonauts maintained their normal schedule of Russian science and maintenance activities.
NASA astronauts Andrew Morgan and Christina Koch have cleared their schedule for a well-deserved rest day and are taking it easy aboard the International Space Station. Commander Luca Parmitano and fellow NASA Flight Engineer Jessica Meir also had the day off. All four astronauts will get back to work Thursday with final preparations for their second spacewalk this month.
Morgan and Koch will not only ready their U.S. spacesuits for Friday's spacewalk, they will also research cancer therapies and microbial DNA sequencing. Parmitano will assist the duo with the spacesuit preparations and help Meir with an aerobic fitness evaluation.
The two cosmonauts stayed busy today in the Russian segment of the orbiting lab. Flight Engineers Alexander Skvortsov and Oleg Skripochka split their time between microgravity research and station maintenance. Skvortsov explored how leg veins adapt to weightlessness before checking on station air conditioning and smoke detectors. Skripochka explored pain sensitivity in space and shared a moment with ham radio operators on the ground for an educational opportunity.