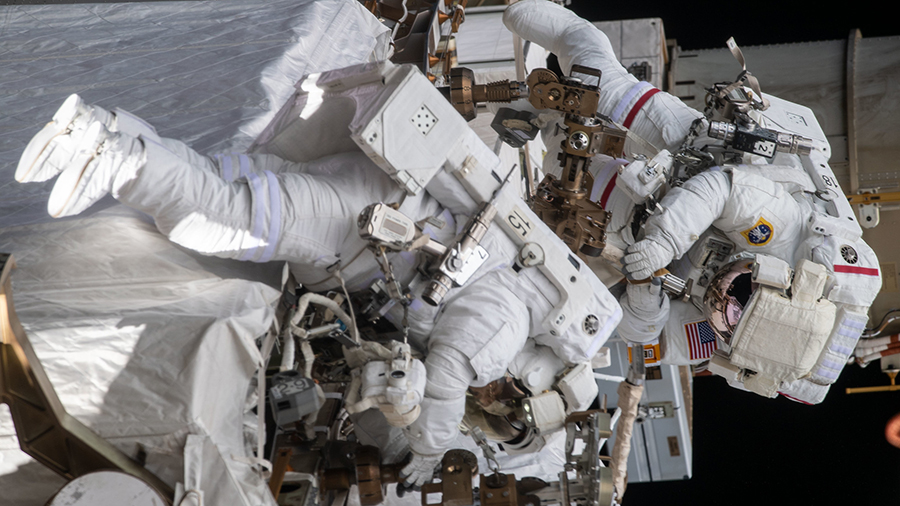 NASA has set the first all-female spacewalk for later this week while the Expedition 61 crew works life science today aboard the International Space Station. A new commercial cargo vehicle is also being readied for future delivery missions.
NASA astronauts Christina Koch and Jessica Meir are readying their spacesuits and reviewing procedures for a spacewalk planned later this week. The duo will venture outside the station to replace a power controller that failed over the weekend. The crew is safe as science and maintenance operations continue normally on the orbiting lab.
Commander Luca Parmitano joined Flight Engineer Andrew Morgan and studied how the lack of gravity affects perception during Monday afternoon. The duo took turns wearing virtual reality goggles while clicking a mouse to assess their distance perception using visual cues.
Over in the Russian segment of the station, cosmonauts Alexander Skvortsov and Oleg Skripochka focused mainly on life support maintenance tasks. The duo swapped out hardware in the air conditioning system and checked out smoke detectors.
Back on Earth, the primary vehicle structure of Sierra Nevada's Dream Chaser spacecraft was delivered to the company's Colorado production facility today. Dream Chaser is scheduled to begin ferrying cargo to and from the International Space Station in 2021.