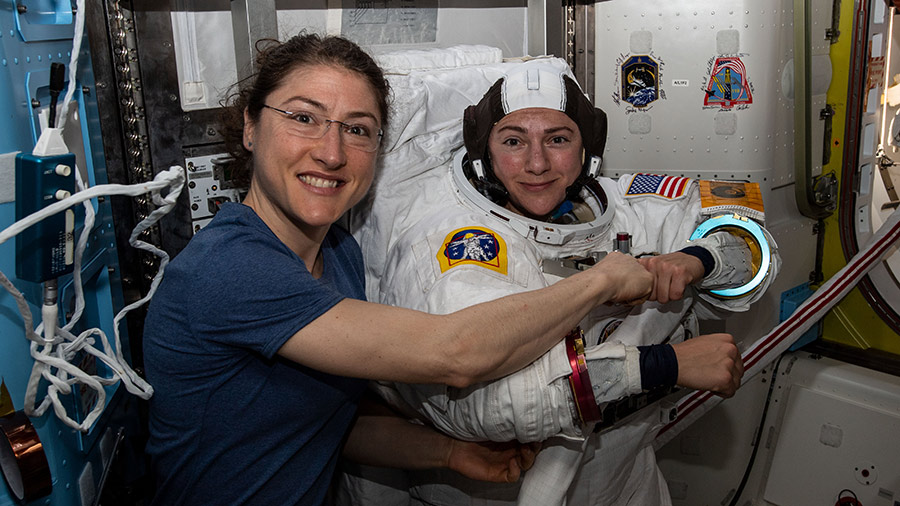 Two NASA astronauts switched their spacesuits to battery power this morning at 7:38 a.m. EDT. Expedition 61 Flight Engineers Christina Koch and Jessica Meir are venturing out into the vacuum of space to replace a failed power controller, also known as a battery charge-discharge unit (BCDU). The BCDU regulates the charge to the batteries that collect and distribute solar power to the orbiting lab's systems.
It is the first time all spacewalkers are women and the 43rd spacewalk to include women. Watch the spacewalk on NASA TV and on the agency's website.
Koch is designated extravehicular crew member 1 (EV 1), wearing the suit with red stripes, and her helmet camera is labeled #18. Meir is designated extravehicular crew member 2 (EV 2), wearing the suit with no stripes, and with helmet camera #11.
The spacewalk is the 221st in support of station assembly, maintenance and upgrades and the eighth outside the station this year.
Learn more about station activities by following the space station blog, @Space_Station and @ISS_Research on Twitter as well as the ISS Facebook and ISS Instagram accounts.