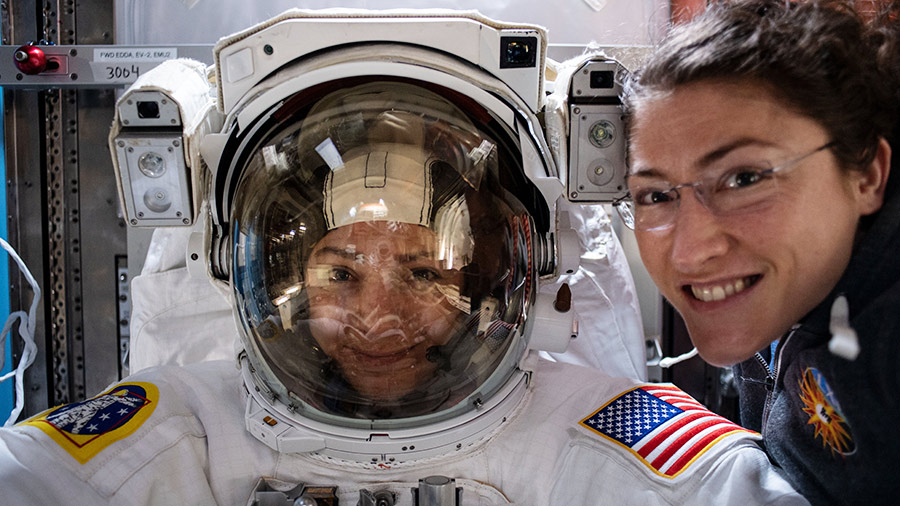 NASA TV coverage has begun of the first all-woman spacewalk in history. Watch on NASA TV and the agency's website. Expedition 61 Flight Engineers Christina Koch and Jessica Meir of NASA are making final preparations to go outside the International Space Station for today's tasks to replace a faulty power controller. They are expected to begin their spacewalk at about 7:50 a.m. EDT.
NASA Administrator Jim Bridenstine and former astronaut and acting Associate Administrator for Human Exploration and Operations Ken Bowersox will host a media teleconference at 7:15 a.m. to discuss the historical significance of the event as the agency looks forward to putting the first woman and next man on the Moon by 2024. Listen at http://www.nasa.gov/live
Koch is designated extravehicular crew member 1 (EV 1), wearing the suit with red stripes. Meir is designated extravehicular crew member 2 (EV 2), wearing the suit with no stripes. Koch's helmet camera will carry the number 18, and Meir's helmet camera will carry the number 11.
The faulty power controller, also known as a battery charge-discharge unit (BCDU), regulates the charge to the batteries that collect and distribute solar power to the orbiting lab's systems. The unit they are replacing failed to activate following the Oct. 11 installation of new lithium-ion batteries on the space station's exterior structure.
Commander Luca Parmitano of the European Space Agency (ESA) and NASA Flight Engineer Andrew Morgan will assist the spacewalkers. Parmitano will control the Canadarm2 robotics arm and Morgan will provide airlock and spacesuit support.
Although it will be the 221st spacewalk performed in support of space station assembly and maintenance, it is the first to be conducted entirely by women. This will be Koch's fourth spacewalk and Meir's first.
Learn more about station activities by following the space station blog, @space_station and @ISS_Research on Twitter as well as the ISS Facebook and ISS Instagram accounts.