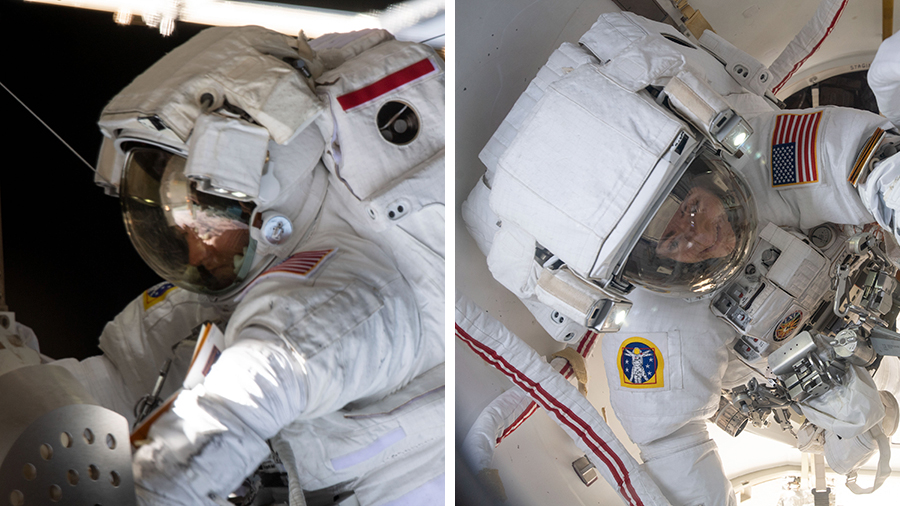 The Expedition 61 crew is cleaning up today after the first all-woman spacewalk at the International Space Station. Eye checks and lab maintenance also kicked off the workweek as two cosmonauts took the day off.
NASA astronauts Christina Koch and Jessica Meir are stowing the tools they used on Friday during a seven-hour and 17-minute spacewalk. Koch is also packing a failed power controller for return to Earth after replacing it with spare unit during last week's excursion. Meir recorded how she felt about the first spacewalk of her career for a 3-D virtual reality film.
During the afternoon, Meir joined Commander Luca Parmitano and fellow Flight Engineer Andrew Morgan for eye exams. The trio took turns peering into Optical Coherence Tomography hardware so ground doctors could check the astronauts' retinas.
Morgan partnered with Koch in the morning transferring hardware from the Permanent Multipurpose Module to Japan's HTV-8 resupply ship. The HTV-8 will complete its 34-day cargo mission at the station's Harmony module on Nov. 1.
Cosmonauts Alexander Skvortsov and Oleg Skripochka are relaxing today after a busy week of space research and maintenance over the station's Russian segment. The veteran space duo are each on their third long-duration mission at the orbiting lab.