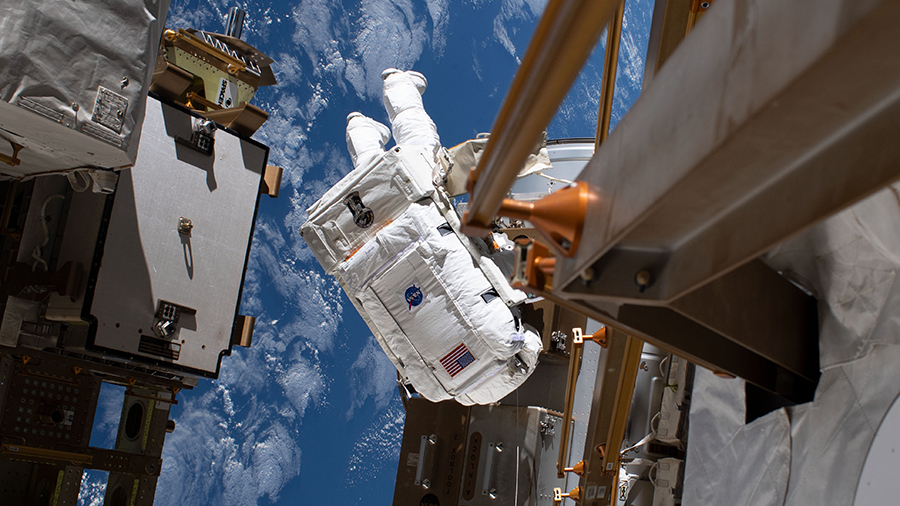 Japan's resupply ship is nearing the end of its month-long stay at the International Space Station. Meanwhile, the Expedition 61 crew is exploring how microgravity impacts humans and plants today.
Fresh off her fourth spacewalk last Friday, NASA astronaut Christina Koch is packing the Japanese HTV-8 cargo craft with discarded hardware and trash for disposal. Commander Luca Parmitano of ESA (European Space Agency) joined Koch for the cargo transfers today.
Koch and NASA Flight Engineer Jessica Meir will be in the cupola on Friday, Nov. 1 commanding the Canadarm2 robotic arm to release the HTV-8. It will reenter Earth's atmosphere the following day for a fiery, but safe demise above the Pacific Ocean.
Parmitano and Koch switched roles during the afternoon from space movers to crew medical officers (CMO) examining Meir and NASA Flight Engineer Andrew Morgan. The CMOs operated an ultrasound scanner looking at the cornea, lens and optic nerve inside the eyes of Meir and Morgan.
Koch also researched surface tension in space to understand afflictions such as Alzheimer's disease and design advanced materials. Meir tended to plants for an ongoing space agriculture study. Morgan installed new life science hardware inside the Kibo lab module's Saibo biology research rack.
Cosmonauts Alexander Skvortsov and Oleg Skripochka set up acoustic gear testing the detection and location of micrometeoroid impacts on the space station. The duo spent the rest of the afternoon checking docking hardware on the Zvezda service module and the Pirs docking compartment.