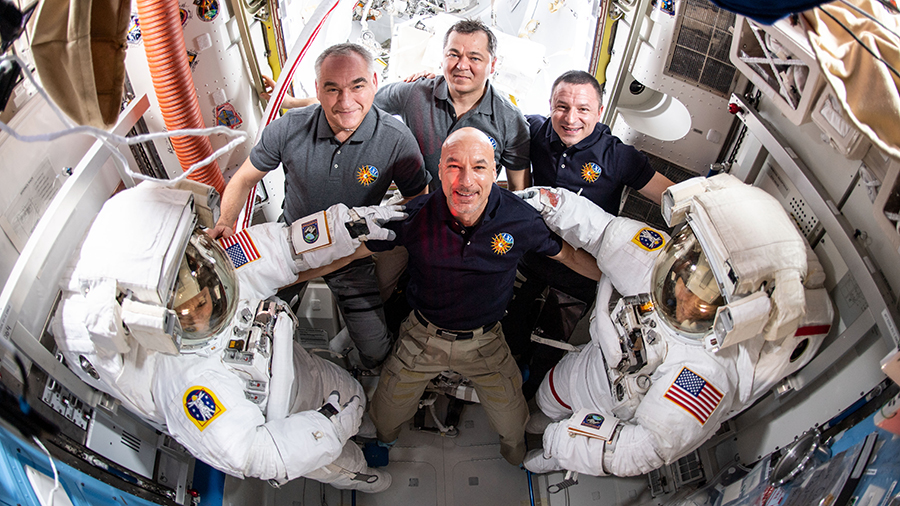 The Expedition 61 crew tackled a variety of maintenance jobs and microgravity science onboard the International Space Station today. The orbital residents are also gearing up for the departure of a Japanese cargo ship and more spacewalks tentatively scheduled for November.
Flight Engineer Christina Koch continued loading trash and obsolete gear in Japan's resupply ship before stowing spacewalk tools and hardware today. Commander Luca Parmitano began his day getting up to speed on future spacewalks planned for the repair of the Alpha Magnetic Spectrometer. Koch and Parmitano later joined together and installed new stowage racks inside the Permanent Multipurpose Module.
NASA astronaut Jessica Meir spent all day Wednesday cleaning cooling loops inside the U.S. spacesuits she and Koch wore last week. Parmitano and Flight Engineer Andrew Morgan were also on spacesuit duty checking tethers and recharging the metal oxide canisters that scrub carbon dioxide from the suit atmosphere.
Morgan was back in the Japanese Kibo laboratory module this morning installing an incubator into the Saibo biology research rack. He then watered plants for a space agriculture study exploring how to provide fresh food for long-term space crews.
In the Russian segment of the orbiting lab, veteran cosmonaut Alexander Skvortsov researched ways to improve geographic accuracy when photographing the Earth. Flight Engineer Oleg Skripochka continued testing acoustic gear to detect and locate micrometeoroid impacts on the station.