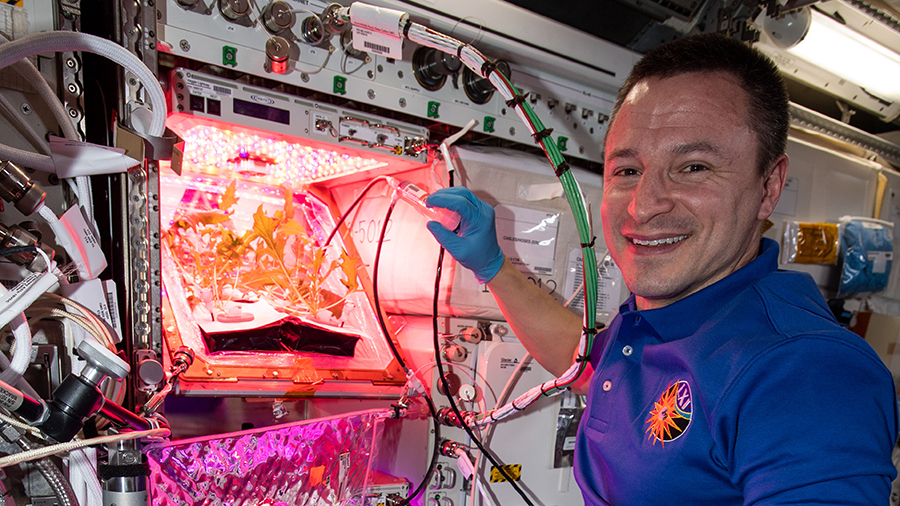 The six residents living aboard the International Space Station are busy today ensuring advanced microgravity research continues to provide benefits for citizens on Earth and in space. The Expedition 61 crew is also brushing up on repair techniques for a cosmic particle detector attached to the outside of the orbiting lab.
NASA astronauts Jessica Meir and Christina Koch juggled an array of life science activities throughout Thursday. Meir cared for plants for a new field of botany research exploring how to provide fresh food for long-term space crews. Meir later swapped out a failed computer hard drive that supports combustion experiments. Koch organized biology hardware for a study seeking therapies for aging-related conditions. Koch then serviced microbial DNA samples to understand how microorganisms adapt to weightlessness.
The Alpha Magnetic Spectrometer (AMS-02) is due for an upgraded thermal control system after being installed on the outpost's Starboard-3 truss structure in 2011. NASA is planning a series of spacewalks to restore the AMS-02 to full service. Commander Luca Parmitano of ESA (European Space Agency) and NASA Flight Engineer Andrew Morgan are reviewing the tools and techniques necessary to complete the AMS repair job.
Over in the station's Russian segment, composed of five modules, a pair of cosmonauts focused on hardware and systems maintenance. Alexander Skvortsov inspected lab windows and checked batteries. Fellow cosmonaut Oleg Skripochka worked on air conditioning and plumbing tasks inside the orbital lab. The duo also explored how to improve accuracy when detecting and photographing Earth landmarks.