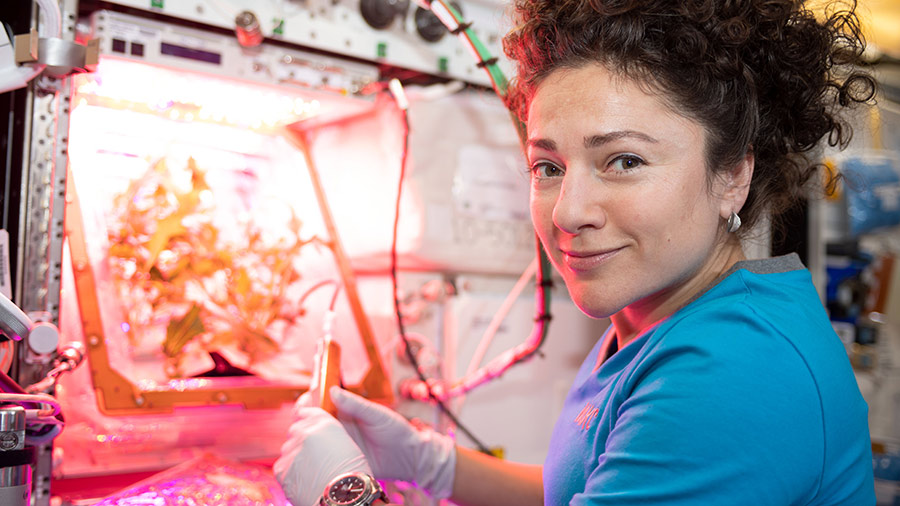 The Expedition 61 crew harvested a space-grown crop today aboard the International Space Station. The orbital lab residents also tested robotics systems before exploring blood pressure and time perception in microgravity.
Space agriculture aboard the orbiting laboratory has been ongoing for several years to learn how to provide fresh food to space crews. NASA astronauts Jessica Meir and Andrew Morgan continued that research by cutting Mizuna leaves today for a taste test and stowing the leftovers in a science freezer for scientific analysis.
Morgan also took turns with Commander Luca Parmitano of ESA (European Space Agency) wearing virtual reality goggles and clicking a trackball for a time perception study. The investigation observes subjective time changes astronauts experience during space missions and back on Earth after missions.
The Astrobee free-flying robotic assistant had a test-run today as Parmitano calibrated the autonomous device's systems. The ESA astronaut checked Astrobee's abilities to navigate, dock and visually monitor activities inside the space station's Kibo laboratory module.
The Cygnus resupply ship will launch Saturday at 9:59 a.m. EDT atop the Antares rocket from Virginia. Meir and NASA Flight Engineer Christina Koch are practicing robotic techniques to capture Cygnus when it arrives two days later. Meir, with Koch backing her up in the cupola, will command the Canadarm2 robotic arm to reach out and capture Cygnus Monday at 4:10 a.m. EST.
Cosmonauts Alexander Skvortsov and Oleg Skripochka spent Wednesday morning exploring how blood pressure responds to the lack of gravity. The duo split up in the afternoon as Skvortsov checked Russian communication and spacecraft systems. Skripochka worked on life support systems and explored how orbiting Earth affects the station's magnetic field.