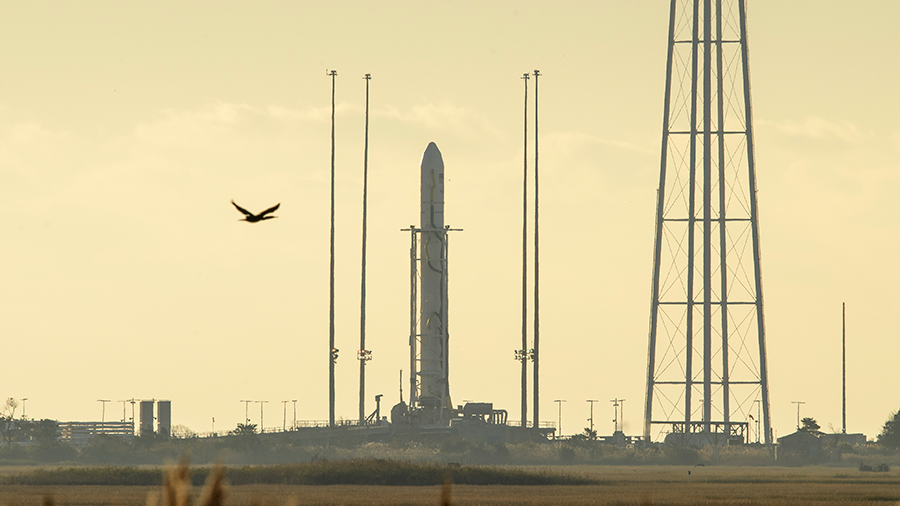 NASA coverage of the scheduled launch at 9:59 a.m. EDT of Northrop Grumman's 12th mission to resupply the  International Space Station is underway on NASA TV and the agency's website. The company's Cygnus cargo spacecraft will lift off on an Antares rocket from Virginia Space's Mid-Atlantic Regional Spaceport at NASA's Wallops Flight Facility.
Northrop Grumman's Cygnus spacecraft is loaded with around 8,200 pounds of science and research, crew supplies, and hardware for the orbiting laboratory.
The spacecraft, dubbed the SS Alan Bean, is named after the late Apollo and Skylab astronaut who died on May 26, 2018, at the age of 86. This Cygnus will launch 50 years to the month after Bean, Pete Conrad and Dick Gordon flew to the Moon on NASA's Apollo 12 mission, during which Bean became the fourth human to walk on the lunar surface. Bean was the lunar module pilot aboard Intrepid with mission commander Conrad when they landed on Moon at the Ocean of Storms on Nov. 19, 1969.
Follow launch activities at the launch blog and @NASA_Wallops and learn more about space station activities by following @space_station and @ISS_Research on Twitter as well as the ISS Facebook and ISS Instagram accounts.