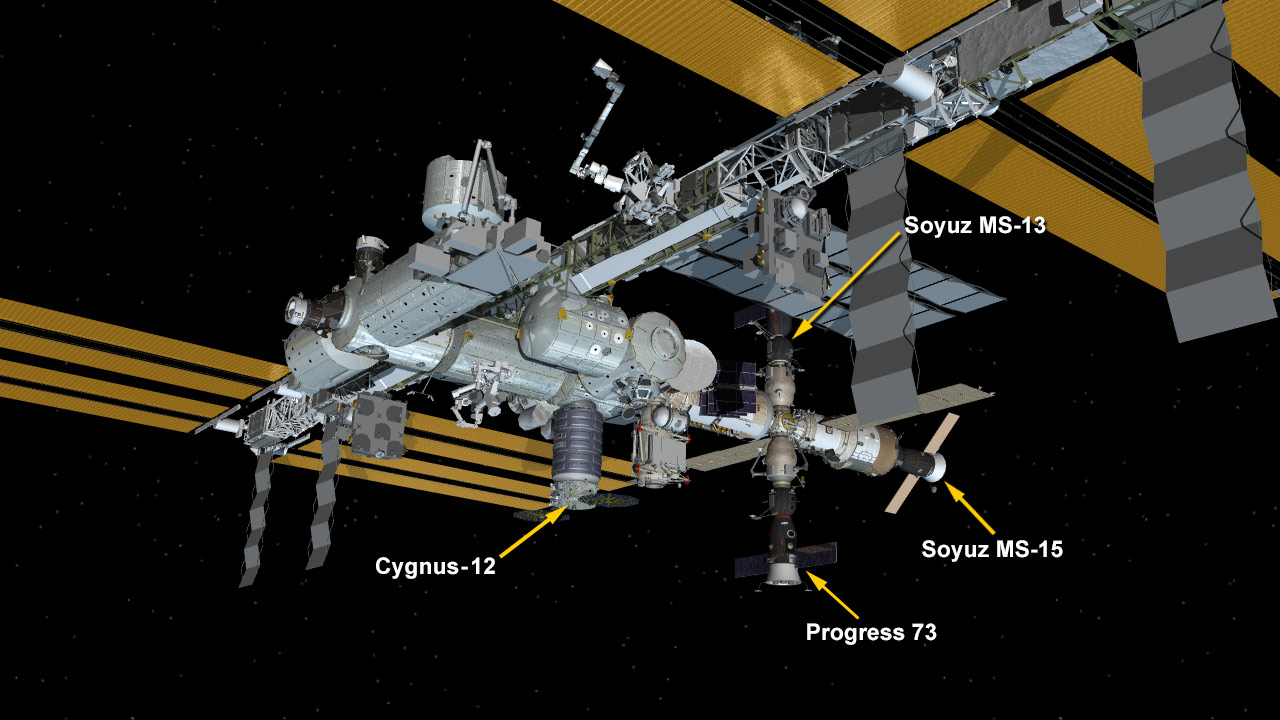 After its capture this morning at 4:10 a.m. EST, the Northrop Grumman Cygnus spacecraft was bolted into place on the International Space Station's Earth-facing port of the Unity module at 6:21 a.m. At the time of installation, Cygnus was flying over the south Pacific.
This mission, designated NG CRS-12, will be in orbit at the same time as its predecessor, the NG CRS-11 Cygnus spacecraft, which launched in April on an extended duration flight. The NG CRS-12 Cygnus spacecraft will remain at the space station until January before it disposes of several thousand pounds of trash through its fiery reentry into Earth's atmosphere. The ability to fly two vehicles at once further demonstrates the robustness of Cygnus to support the goals of NASA's ambitious missions.
The spacecraft's arrival brings close to 8,200 pounds of research and supplies to space station. Here are some of the scientific investigations:
More Probing of Mysteries of the Universe
This mission carries components needed to prolong the operational life of Alpha Magnetic Spectrometer-02 (AMS-02). In a series of spacewalks planned in the coming weeks, astronauts will cut and reconnect fluid lines on the instrument, a feat not done before in space, which could prove valuable for future missions at NASA's upcoming lunar Gateway for the Artemis program or missions to Mars.
Testing Personal Protective Equipment for Astronauts
The AstroRad Vest tests a special garment designed to protect astronauts from radiation caused by unpredictable solar particle events. Astronauts will provide input on the garment as they wear it while performing daily tasks. Use of the vest could protect crew members on missions to the Moon and Mars.
Food Fresh from the Oven
The Zero-G Oven examines heat transfer properties and the process of baking food in microgravity. It uses an oven designed specifically for use aboard the space station, and may have application on future long-duration missions by offering a way to increase variety in flavor and nutrition of food for crew members.
3D Printing with Recycled Materials
The Made in Space Recycler will test systems needed to reprocess plastic into 3D printing filament that can then be transferred for use to the Made in Space Manufacturing Device, a 3D printer that has operated on the orbiting laboratory since 2016. This has implications for space conservation and deep space missions.
Learn more about station activities by following the space station blog, @space_station and @ISS_Research on Twitter as well as the ISS Facebook and ISS Instagram accounts.