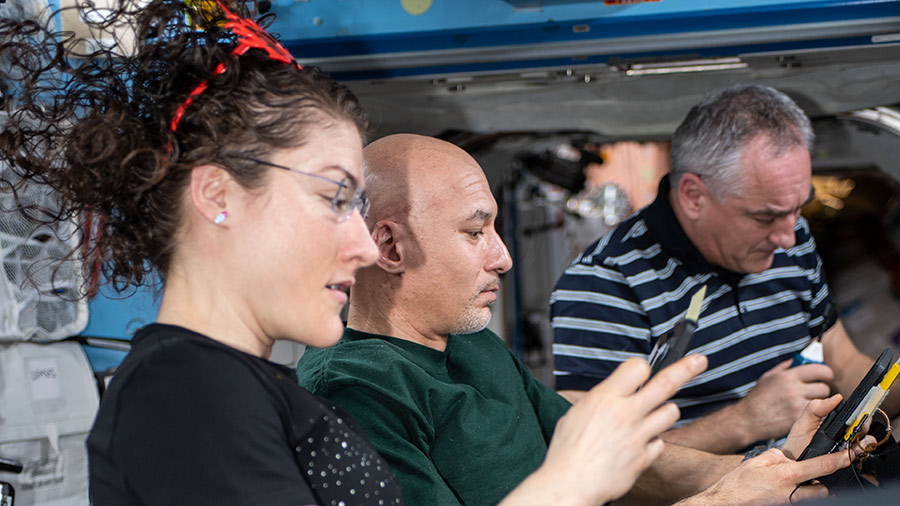 The Expedition 61 crew is focusing on a complex series of spacewalks set to start soon to repair a cosmic particle detector. The orbital residents also conducted an emergency drill aboard the International Space Station today.
Astronauts Luca Parmitano and Andrew Morgan are familiarizing themselves with new spacewalking gear delivered aboard the Cygnus space freighter. The duo will use the new tools and hardware on a series of spacewalks to repair the Alpha Magnetic Spectrometer's (AMS) thermal control system.
The spacewalks will highlight advanced repair techniques, including cutting and reconnecting fluid lines, never performed during a spacewalk. Parmitano and Morgan are set to venture outside the station on Friday Nov. 15 to begin the first of at least four spacewalks to upgrade the AMS, a device that searches for dark matter and antimatter.
NASA astronauts Jessica Meir and Christina Koch joined the upcoming spacewalkers today and reviewed tools and procedures for the excursions. The quartet then called Mission Control for a conference with experts on the ground about their spacewalking duties.
At the end of the workday, all six crew members, including cosmonauts Alexander Skvortsov and Oleg Skripochka, practiced responding to an emergency simulation. The crew reviewed safety and medical gear, translated evacuation paths, practiced chest compressions (CPR) and coordinated communications.
The space station raised its orbit during the crew's sleep period Thursday night when Russia's Progress 73 resupply ship fired its thrusters for six minutes and 45 seconds. Now orbiting a mile higher at its perigee, the orbital complex is at the correct altitude for Russia's next resupply ship, Progress 74, to dock on Dec. 3 after it launches Dec. 1.