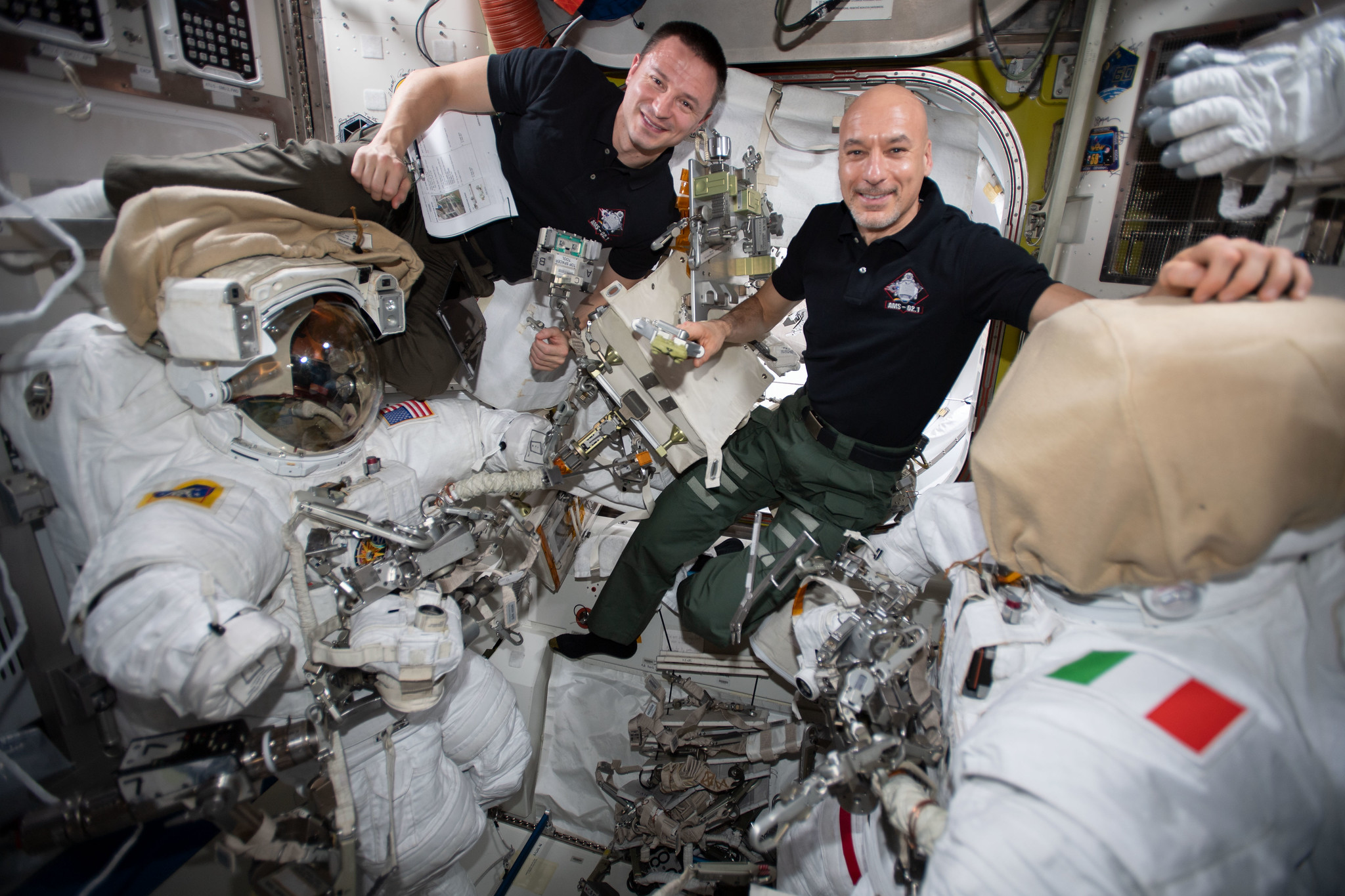 Two astronauts switched their spacesuits to battery power this morning at 6:39 a.m. EST aboard the International Space Station to begin a spacewalk planned to last about six-and-a-half hours. Expedition 61 Commander Luca Parmitano of ESA (European Space Agency) and NASA Flight Engineer Andrew Morgan will venture outside the International Space Station for the first in a series of complex spacewalks to replace a cooling system on the Alpha Magnetic Spectrometer (AMS), a cosmic ray detector.
Parmitano is designated extravehicular crewmember 1 (EV 1), wearing the suit with red stripes, and with the helmet camera labeled #11. Morgan is designated extravehicular crew member 2 (EV 2), wearing the suit with no stripes, and with helmet camera #18.
During the first spacewalk in the series to repair the AMS, the astronauts will position materials, remove a debris cover on the AMS, and install handrails in preparation for the subsequent spacewalks.
AMS is a joint effort between NASA and the Department of Energy's Office of Science and is led by Principal Investigator Samuel Ting, a Nobel laureate from the Massachusetts Institute of Technology. The AMS team includes some 600 physicists from 56 institutions in 16 countries from Europe, North America and Asia. AMS has been capturing high-energy cosmic rays to help researchers answer fundamental questions about the nature of antimatter, the unseen "dark matter" that makes up most of the mass in the universe, and the even-more-mysterious dark energy that is speeding up the expansion of the cosmos.
Watch the spacewalk on NASA TV and on the agency's website.
Follow @space_station on Twitter for updates online. Learn more about the International Space Station online, including additional information about the current crew members.