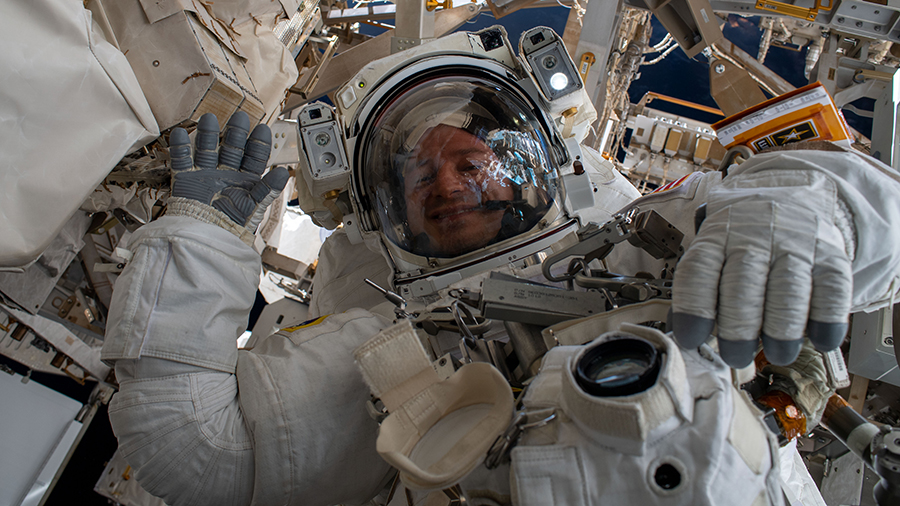 The Expedition 61 astronauts are in final preparations before Friday's spacewalk to continue repairing the International Space Station's cosmic particle detector. The orbital residents also had time today to set up research hardware for upcoming space biology activities.
Spacewalkers Andrew Morgan and Luca Parmitano will exit the Quest airlock on Friday after setting their U.S. spacesuits to battery power at 6:50 a.m. EST. The duo will translate to the far side of the station's starboard truss structure to continue the intricate work to upgrade the Alpha Magnetic Spectrometer's (AMS) thermal control system. NASA TV begins its live coverage beginning at 5:30 a.m.
Flight Engineers Jessica Meir and Christina Koch will assist the spacewalkers during the excursion from inside the station on Friday. Meir will be on robotics duty maneuvering the Canadarm2 robotic arm while Koch manages their spacesuits.
Even with spacewalk activities dominating the schedule aboard the orbiting lab, the station crew still had time to conduct advanced space research. Meir set up a 3-D bioprinter for a test run today before the device begins manufacturing complex organ-like tissues in space. Koch is readying a variety of life science gear for next week's operations to study how microgravity affects systems at the cellular level for insights into Earth-bound ailments.
The cosmonauts in the Russian segment of the space station focused primarily on lab maintenance. Flight Engineers Alexander Skvortsov and Oleg Skripochka replaced batteries and dust filters. The duo then packed the Progress 72 (72P) resupply ship with trash and repressurized the station with oxygen from the 72P.