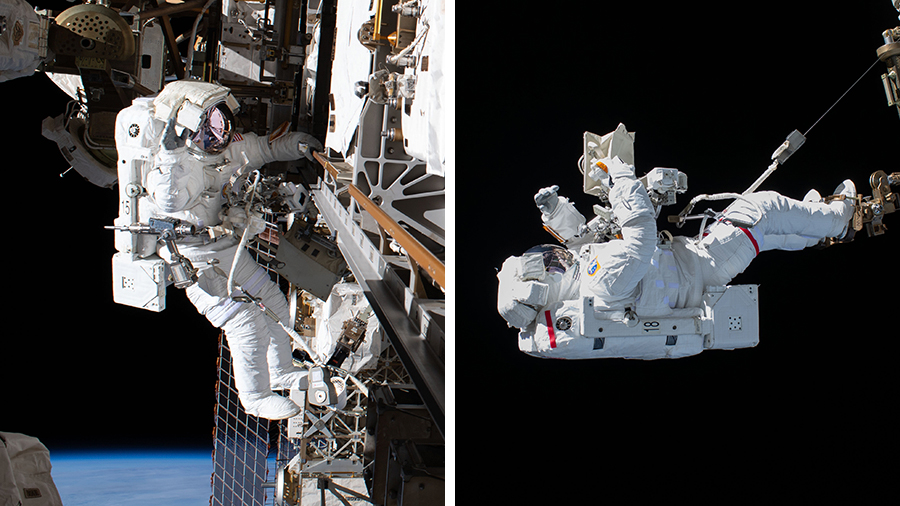 Expedition 61 Commander Luca Parmitano of ESA (European Space Agency) and NASA Flight Engineer Andrew Morgan switched their spacesuits to battery power this morning at 6:31 a.m. EST aboard the International Space Station to begin a spacewalk planned to last about seven-and-a-half hours during which they will install a new cooling system for the cosmic ray detector attached to the station called the Alpha Magnetic Spectrometer (AMS).
Watch the spacewalk on NASA TV and on the agency's website.
Parmitano is extravehicular crew member 1 (EV 1), wearing the suit with red stripes, and with the helmet camera labeled #11. Morgan is extravehicular crew member 2 (EV 2), wearing the suit with no stripes and with helmet camera #18.
In addition to revitalizing an important piece of scientific equipment, the process of creating the tools and procedures for these spacewalks is preparing teams for the types of spacewalks that may be required on Moon and Mars missions. The tools include plumbing instruments to cut into the cooling lines, new screwdriver bits and devices to capture the fasteners the astronauts remove from AMS. Learn more about the unique tools developed for the spacewalks to repair AMS.
Learn more about space station activities by following @space_station and @ISS_Research on Twitter as well as the ISS Facebook and ISS Instagram accounts.