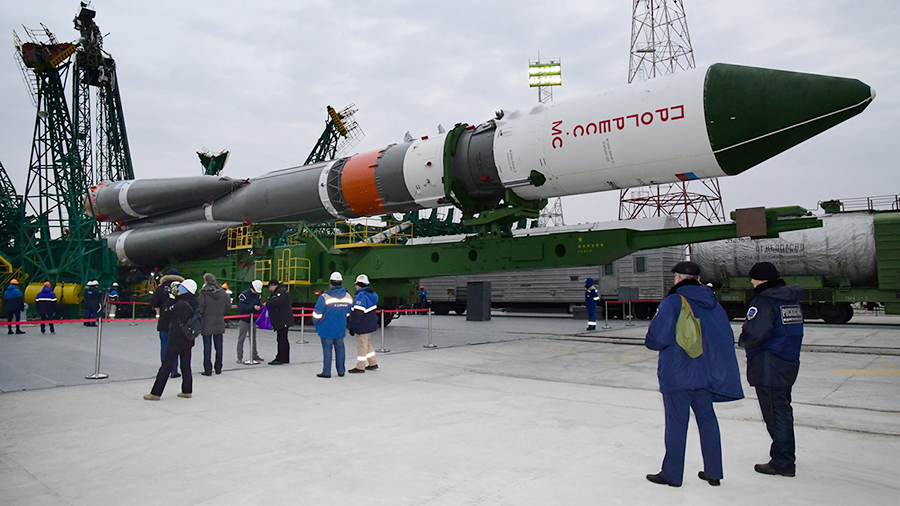 The Expedition 61 crew will wait an extra day for the arrival of the SpaceX Dragon resupply ship to the International Space Station. Meanwhile, the Progress 74 (74P) cargo craft from Roscosmos rolled out to its launch pad at the Baikonur Cosmodrome in Kazakhstan.
High upper level winds forced SpaceX to scrub today's launch of its 19th Dragon resupply ship aboard a Falcon 9 rocket today. Mission personnel are now targeting a launch less than 24 hours later on Thursday at 12:29 p.m. EST from Florida.
Commander Luca Parmitano and Flight Engineer Andrew Morgan will capture Dragon with the Canadarm2 robotic arm when it arrives Sunday at approximately 6 a.m. Dragon will deliver nearly three tons of cargo including new experiments such as the Confined Combustion study, Japan's Hyperspectral Imager Suite (HISUI) and the AzTechSat-1 cubesat developed by Mexican students.
The duo along with NASA Flight Engineers Jessica Meir and Christina Koch had a light-duty day today. The quartet focused on housecleaning duties in the station's U.S. segment following a busy period of spacewalks and space biology research.
The 74P resupply rocket from Russia is now standing vertical at the launch site in Kazakhstan having rolled out early Wednesday morning from its processing facility. It will blast off Friday at 4:34 a.m. loaded with new station hardware and crew supplies. Cosmonauts Alexander Skvortsov and Oleg Skripochka will monitor its arrival on Monday when the 74P automatically docks to the Pirs docking compartment on Monday at 5:38 a.m.