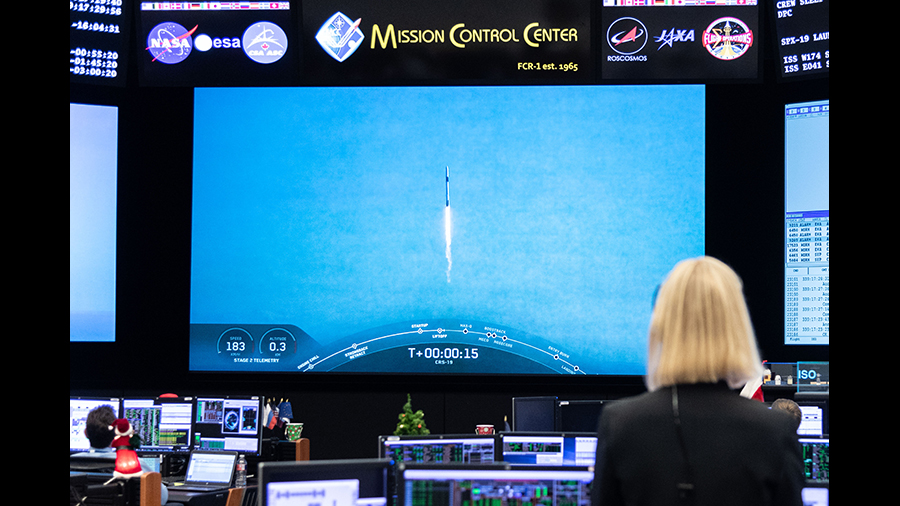 The SpaceX Dragon resupply ship is on its way to the International Space Station packed with science and supplies for the Expedition 61 crew. Russia's Progress 74 cargo craft will soon follow the U.S. spaceship with a launch set for Friday morning.
Dragon blasted off from Florida on Thursday at 12:29 p.m. EST carrying nearly three tons of cargo. Included in the space shipment are new science experiments such as the Confined Combustion study, Japan's Hyperspectral Imager Suite (HISUI) and the AzTechSat-1 cubesat developed by Mexican students.
Astronauts Luca Parmitano and Andrew Morgan will capture Dragon with the Canadarm2 robotic arm when it arrives Sunday at approximately 6 a.m. Robotics controllers on Earth will take over the Canadarm2 and remotely install Dragon to the Harmony module.
Russia's' Progress 74 resupply rocket stands at its launch pad in Kazakhstan counting down to a Friday launch at 4:34 a.m. It will arrive Monday loaded with new station hardware and crew supplies. Cosmonauts Alexander Skvortsov and Oleg Skripochka will monitor the 74P's automated docking to the Pirs docking compartment at 5:38 a.m.
Back inside the orbiting lab, a variety of space biology research took place today to understand how weightlessness affects the human body long term. Morgan and fellow NASA astronaut Jessica Meir collected and spun their blood samples in a centrifuge for the Fluid Shifts study. Meir then joined Parmitano for eye checks during the afternoon.
Parmitano started his morning installing cell research hardware in the Japanese Kibo laboratory module. NASA Flight Engineer Christina Koch serviced the Bio-Monitor, a wearable device that monitors a crewmember's vital signs real-time.