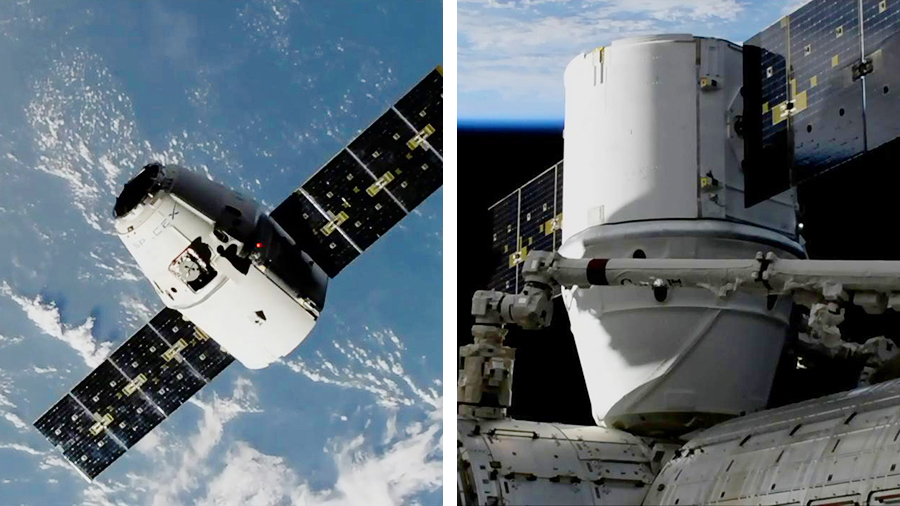 Two new cargo spaceships are open for business at the International Space Station as a variety of new space research begins this week. The Expedition 61 crew has begun unpacking several tons new supplies from the U.S. and Russian space freighters.
Russia's Progress 74 cargo craft automatically docked to the station's Pirs docking compartment at 5:35 a.m. EST today after launching midday Friday. Cosmonauts Alexander Skvortsov and Oleg Skripochka opened the hatch shortly afterward and began retrieving critical research hardware for stowage on the orbiting lab.
The SpaceX Dragon resupply ship arrived at the station on Sunday for a capture and installation with the Canadarm2 robotic arm to the U.S. Harmony module. Commander Luca Parmitano joined NASA astronauts Jessica Meir and Andrew Morgan and quickly unpacked brand new science gear and rodents for observation aboard the space station.
NASA Flight Engineer Christina Koch worked throughout Monday juggling numerous science and cargo activities. She was offloading new Dragon supplies and housing lab rodents delivered aboard the U.S. cargo craft.
Meir and Morgan started Monday with ultrasound scans of their veins and eye pressure checks for the Fluid Shifts study. Meir with assistance from Koch in the afternoon installed a bone densitometer in Japan's Kibo lab module that will measure bone loss in microgravity.