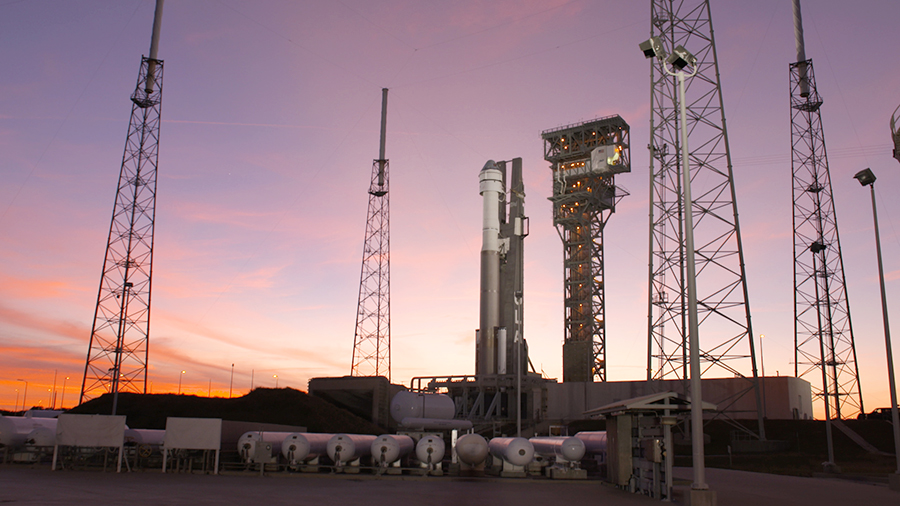 NASA and Boeing are proceeding with plans for Boeing's Orbital Flight Test following a full day of briefings and a Flight Readiness Review that took place at the Kennedy Space Center.
Launch of the CST-100 Starliner spacecraft atop a United Launch Alliance Atlas V rocket is scheduled for 6:36 a.m. EST Friday, Dec. 20, from Florida. The uncrewed flight test will be Starliner's maiden mission to the International Space Station for NASA's Commercial Crew Program.
The Expedition 61 crew today is exploring how the brain, muscles and bones adapt to long-term exposure in weightlessness. The orbiting lab's communications systems are also being continuously maintained.
Astronauts Andrew Morgan and Luca Parmitano were back in the Columbus lab module today investigating how the central nervous system manages hand-eye coordination in space. The duo wore virtual reality gear using real-time visual and audible displays while coordinating a variety of body motions. The GRASP study explores how the brain adapts to the lack of a traditional up and down reference in space to ensure mission success farther away from Earth.
The musculoskeletal system also adjusts rapidly to the microgravity environment and studying mice aboard the orbiting lab helps reveal the impacts. Flight Engineers Jessica Meir and Christina Koch continued scanning rodents today in a bone densitometer before placing them back in their habitats. The new Rodent Research-19 study is investigating two proteins that may prevent muscle and bone loss while living off the Earth.
Cosmonauts Alexander Skvortsov and Oleg Skripochka ensured the upkeep of a variety of Russian space station systems. The duo connected a Progress cargo craft's thrusters to the Zarya module's fuel tanks. The veteran cosmonauts also checked out antenna gear, laptop computers and video recording equipment.
Japan's new high-resolution spectral Earth imager has been installed and activated on the Kibo lab module. HISUI, or Hyperspectral Imagery Suite, is a technology demonstration that will send data to agricultural and environmental industries for improved resource management.