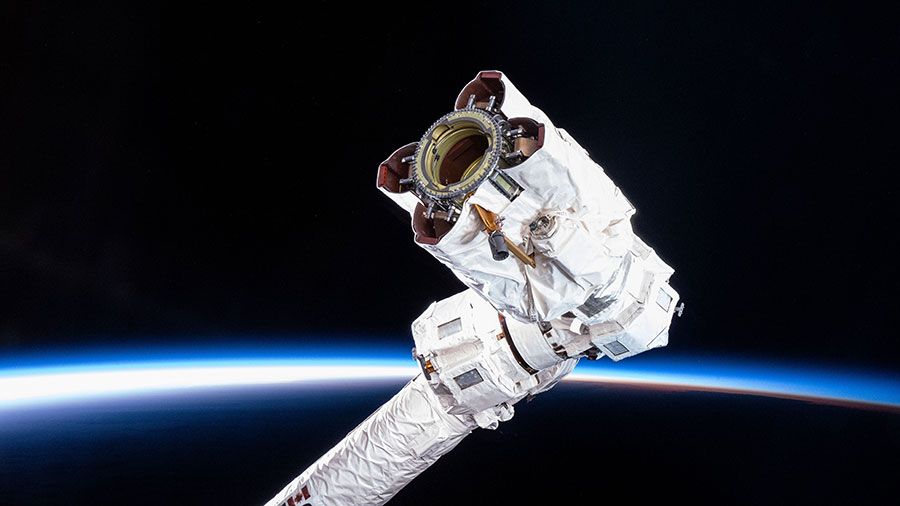 Four spaceships are parked at the International Space Station today as two new crews are due to launch by the end of October. In the meantime, the Expedition 63 crew has begun unpacking the nearly four tons of science experiments, crew supplies and station hardware from the newly arrived Cygnus cargo craft.
Commander Chris Cassidy has begun configuring brand new science experiments and research gear delivered on Northrop Grumman's Cygnus space freighter. He started removing a variety of time-sensitive investigations from Cygnus' science freezers on Monday and quickly transferred them into space station research racks. The new experiments will explore cancer treatments, space botany and life support systems among other important subjects benefitting humans living on Earth and in space.
Flight Engineers Anatoly Ivanishin and Ivan Vagner were once again testing a unique suit today designed to offset a common space symptom that sees blood pool toward a crewmember's upper torso and head. The Lower Body Negative Pressure suit attempts to normalize blood flow to counteract some adverse effects of long-duration spaceflight and prepare the astronauts for the return to Earth's gravity.
October will be a busy month at the orbiting lab bringing a crew swap and four new Commercial Crew members. First, NASA astronaut Kate Rubins will ride alongside Roscosmos cosmonauts Sergey Ryzhikov and Sergey Kud-Sverchkov when they lift off Oct. 14 from Kazakhstan aboard the Soyuz MS-17 crew ship. The Expedition 64 trio will take a three-hour trip to their new home in space where they will stay until April of next year.
Just one week later, Cassidy will hand control of the station over to Ryzhikov and return to Earth with Ivanishin and Vagner. The trio will parachute to a landing in Kazakhstan inside the Soyuz MS-16 spacecraft ending a 195-day research mission on the station.
Next, four more astronauts are scheduled to join Expedition 64 just one day after they launch aboard the first operational SpaceX Crew Dragon mission from Florida on Oct. 31. Commander Mike Hopkins of NASA will lead Pilot Victor Glover and Mission Specialists Shannon Walker and Soichi Noguchi during the 25-hour ride to the space station. The quartet will stay in space until the Spring.