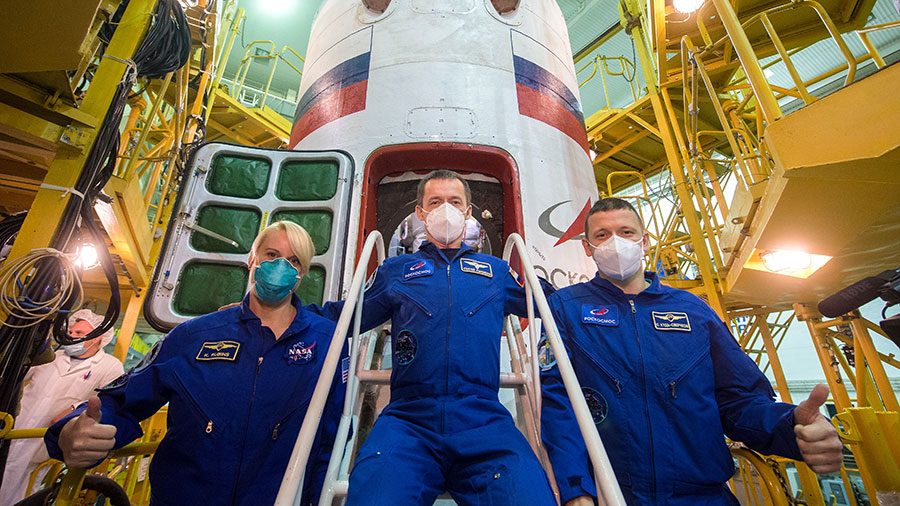 The Expedition 63 crew is readying gear and suits today as they prepare to return to Earth in less than two weeks. Meanwhile, Thursday's research aboard the International Space Station looked at robotics and biology.
Two crews will launch to the station and another one will complete its mission this month. First, NASA astronaut Kate Rubins will ride to the station aboard the Soyuz MS-17 spacecraft with cosmonauts Sergey Ryzhikov and Sergey Kud-Sverchkov. The Expedition 64 trio crew will blast off from Kazakhstan on Oct. 14 to begin a 185-day mission aboard the orbiting lab.
Expedition 64 Commander Chris Cassidy will hand over the station "keys" to Ryzhikov the day before he completes his mission with Flight Engineers Anatoly Ivanishin and Ivan Vagner. The three crew members will enter the Soyuz MS-16, undock from the Poisk module and parachute to a landing in Kazakhstan on Oct. 21.
Cassidy joined Ivanishin and Vagner during the afternoon and checked for leaks inside the Sokol flight suits they will wear when they depart the station. Ivanishin and Vagner also continued gathering station gear and personal items they will soon pack inside their Soyuz crew ship.
As usual, science experiments are ongoing on the station whether with inputs from the crew or by remote operations from students and scientists on the ground. Robotics is a prime space research subject and Cassidy set up the AstroBee free-flying satellites today that students are learning to program to understand spacecraft maneuvers. The veteran NASA astronaut later installed new hardware on the Life Sciences Glovebox to support prolonged crew operations in the research device.
Ivanishin and Vagner were back on biology studies today exploring ways to prevent the loss of bone mass due to extended missions in space.