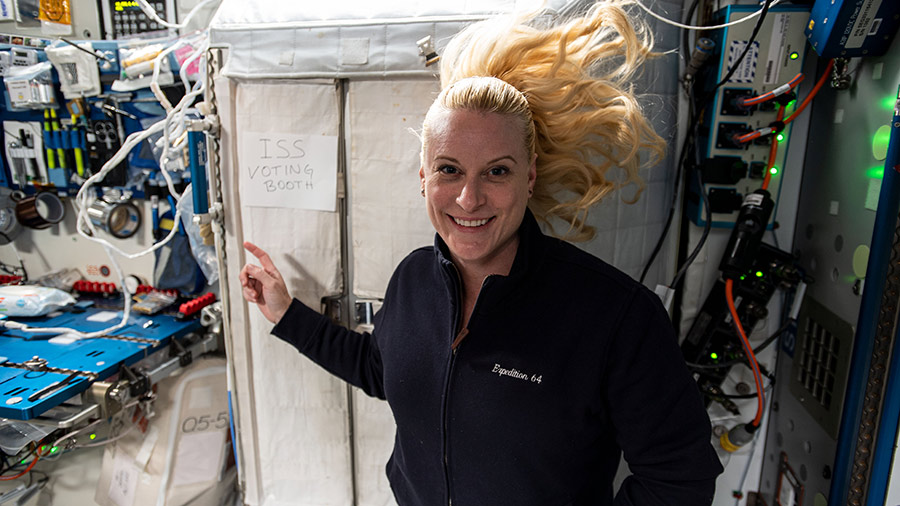 The Expedition 64 trio is nearing its second full week aboard the International Space Station and is beginning the work week with a host of biomedical studies today. The three station crew members will also bring in the 20th year of continuous human habitation of the orbital lab on Nov. 2.
Flight Engineers Kate Rubins and Sergey Kud-Sverchkov with Commander Sergey Ryzhikov started Monday collecting mass measurements before splitting up for the rest of the day. After waking up, they attached themselves to a device that applies a known force to a crew member and uses the resulting acceleration to calculate an astronaut's mass in microgravity.
Rubins spent part of the day on lab maintenance tasks replacing water filters and collecting microbe samples from station surfaces for analysis. She then serviced and inspected an array of science hardware including a Japanese external experiment platform, fluid physics research gear and finally the Advanced Plant Habitat.
Ryzhikov then joined Kud-Sverchkov for a variety of studies exploring how their bodies are adapting to microgravity. The Russian duo logged their meals and drinks throughout the day for an investigation that seeks to understand bone loss in space. The pair also worked on an experiment to improve exercise techniques to sustain long-term space exploration missions. Kud-Sverchkov later collected and stowed his saliva samples for a study looking at how the human immune system adapts to microgravity.
On Nov. 2, Rubins with fellow crewmates Ryzhikov and Kud-Sverchkov will be part of 20 years of humans continuously orbiting Earth aboard the station. They are the 64th long-term crew to live and work on the orbiting lab. The first crew to board the station was Expedition 1 on Nov. 2, 2000, with Commander William Shepherd of NASA with Roscosmos Flight Engineers Sergei Krikalev and Yuri Gidzenko.