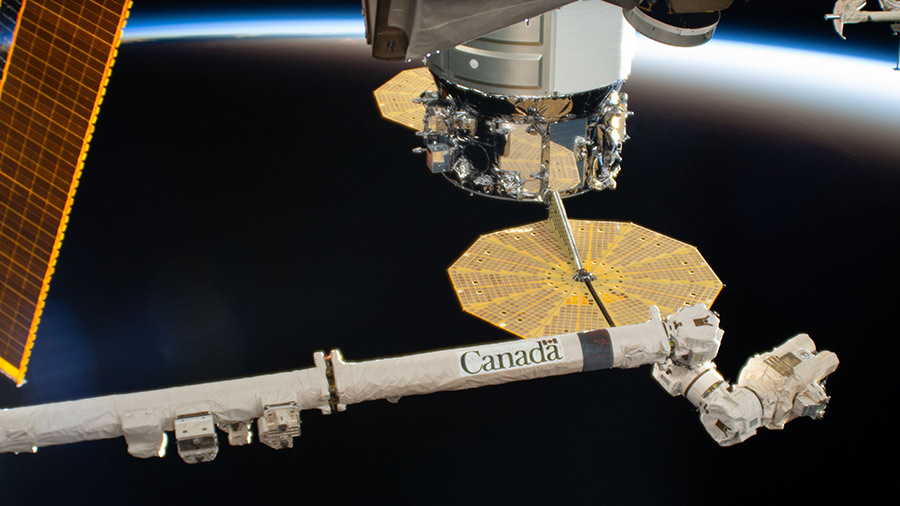 The Expedition 64 crew continued this week's run of space physics and human research aboard the International Space Station today. The orbital trio also spent the day servicing laptop computers and life support systems.
During Wednesday morning, Flight Engineer Kate Rubins of NASA installed material samples inside the Handhold Experiment Platform (HXP) that will soon be exposed to the harsh environment of space. She then placed the Japanese external experiment platform inside the Kibo laboratory module's airlock. From there the Japanese robotic arm will grapple the HXP with the samples inside and install it outside Kibo. Scientists observe the materials over time to understand how space radiation and extreme temperatures affect a variety of samples, impacting the design of future spacecraft and advanced materials.
Rubins then moved onto fluid physics during the afternoon, setting up hardware for the Drop Vibration experiment. Engineers may be able to take advantage of the results to design advanced fuel, water, and air systems on spacecraft.
Flight Engineer Sergey Kud-Sverchkov of Roscosmos began wrapping up operations for a Russian immune system study. After collecting his saliva samples, he stowed the experiment's hardware and transferred science data for later analysis. He also participated in a space exercise study to maintain a crew member's health during long-term missions.
During the morning, Commander Sergey Ryzhikov took part in the same exercise study as his fellow cosmonaut. The veteran cosmonaut then explored ways to improve interactions among international crews and mission control teams. Ryzhikov also upgraded software on a variety of laptop computers and checked airflow sensors throughout orbiting lab's Russian segment.