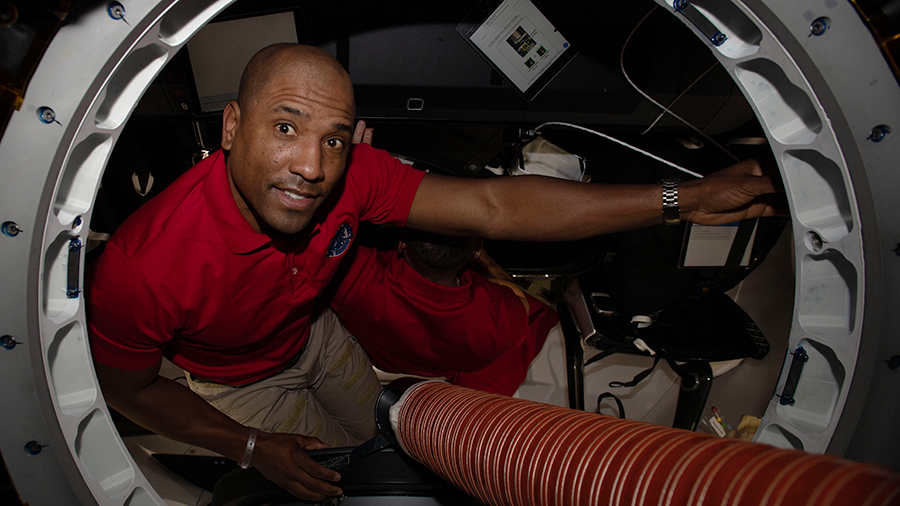 Three Expedition 64 crewmates slept in today following Wednesday's spacewalk to upgrade the International Space Station for a new Russian module. Meanwhile, the station's four newest crew members are adjusting to life in space, working science and unloading cargo from the SpaceX Crew Dragon vehicle.
NASA astronaut Kate Rubins had a long day Wednesday as she assisted cosmonauts Sergey Ryzhikov and Sergey Kud-Sverchkov during their six-hour and 48-minute spacewalk. The trio had an extended sleep shift Thursday having also adjusted their schedules at the beginning of the week to welcome the four astronauts aboard the Crew Dragon.
The extended crew woke up at 7 a.m. EST and jumped right into a busy workday getting familiarized with station systems and working space research. At the end of the day, the quartet also briefed mission controllers and discussed their experience riding in the Crew Dragon vehicle.
Flight Engineers Victor Glover and Soichi Noguchi partnered up Wednesday morning and transferred cargo from Crew Dragon into the station. The duo then split up as Glover participated in the Vection study to understand how astronauts visually perceive and adapt to the space environment. Noguchi spent a good portion of his day inside the Japanese Kibo lab module servicing the Cell Biology Experiment Facility, an incubator that can generate artificial gravity.
Flight Engineer Michael Hopkins, who is also the Crew Dragon commander, explored water droplets to help engineers design improved spacecraft fuel and life support systems. Flight Engineer Shannon Walker studied ceramic manufacturing to boost the aviation industry and the commercialization of space.