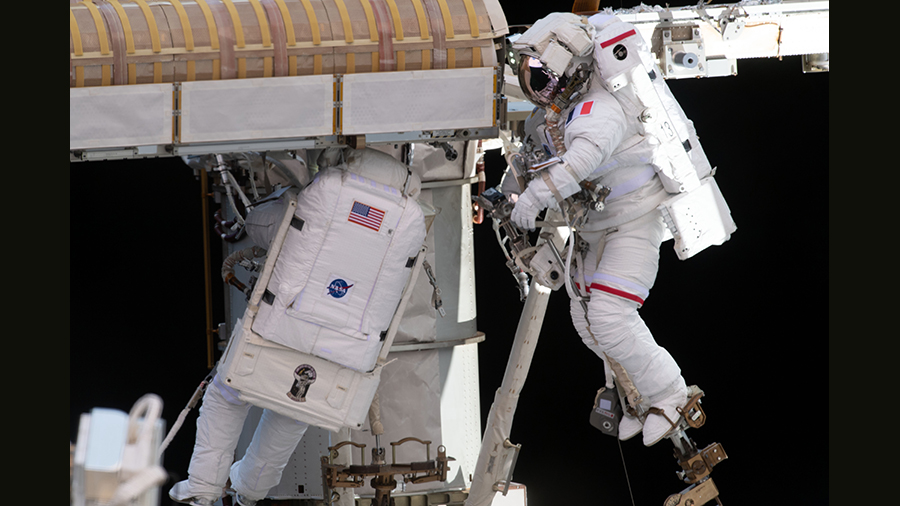 The Expedition 65 crew continued its space research activities today while two astronauts prepared for their third spacewalk in less than two weeks. The International Space Station will also see a U.S. cargo craft depart and a Russian one launch on the same day next week.
NASA Flight Engineer Mark Vande Hei strapped himself to an exercise cycle and attached sensors to himself on Tuesday morning for a workout study measuring aerobic capacity in space. NASA Flight Engineer Megan McArthur explored how bacteria is affected by microgravity and ways to counteract harmful changes.
Eye checks were back on the schedule for four astronauts on Tuesday afternoon. Commander Akihiko Hoshide and Vande Hei took turns operating medical imaging gear and scanned the eyes of astronauts Shane Kimbrough and Thomas Pesquet. A variety of eye exams take place on the station helping researchers understand how weightlessness impacts an astronaut's vision.
Kimbrough and Pesquet are also getting ready for more solar array installation work on the outside of the orbiting lab. The duo reviewed procedures today for installing a second roll out solar array on the station's Port-6 truss structure. The veteran spacewalkers will set their spacesuits to battery power at 8 a.m. EDT on Friday signifying the official start of their third excursion in 9 days. Live coverage on NASA TV starts at 6:30 a.m. on the agency's website and the NASA app.
Hoshide and Vande Hei spent some time Tuesday morning loading Northrop Grumman's Cygnus space freighter ahead of its departure scheduled for July 29 at 12:25 p.m. Russia's ISS Progress 78 resupply ship will launch the same day at 7:27 p.m. and dock to the station two days later at 9:02 p.m.
Roscosmos cosmonaut Oleg Novitskiy packed the ISS Progress 77 resupply ship readying the vehicle for its undocking in late July. The veteran cosmonaut also trapped clouds of particles using both neon and argon gas for a plasma crystal experiment. Russian Flight Engineer Pyotr Dubrov had an exercise test on a treadmill today then serviced a variety of communications and life support hardware.