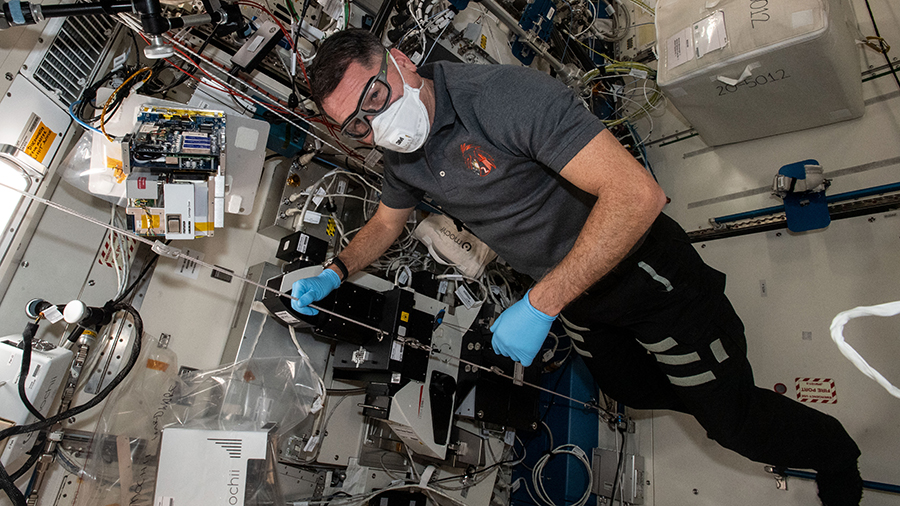 The Expedition 65 crew set up a plant habitat and demonstrated a new ultrasound device amid a variety of other space research aboard the International Space Station today. Meanwhile, the cosmonauts took a break from spacewalk preparations and focused on maintenance.
NASA and its international partners are studying how a variety of life forms from microbes, to plants, to humans and more, are impacted by living long term in microgravity. Doctors observe how weightlessness affects life suited to gravity and learn how to keep astronauts healthy in space and plan for longer missions beyond low Earth orbit.
Plants have been growing on the station for years and as the orbiting lab has expanded so have the facilities to support space botany. Today, NASA Flight Engineer Megan McArthur installed the Veggie vegetable production system in the Columbus laboratory module. Veggie will host the APEX-08 study, being delivered soon aboard the SpaceX Cargo Dragon, to explore space-caused stress and genetic changes in plants.
A new portable ultrasound device was being tested aboard the orbiting lab today in conjunction with touchscreen tablets. NASA Flight Engineer Shane Kimbrough demonstrated using the Butterfly IQ Ultrasound and scanned his veins, kidney, and bladder. Afterward, he filled out a questionnaire to determine to determine the ultrasound's usability and capabilities without immediate ground support.
NASA Flight Engineer Mark Vande Hei continued unpacking cargo from Northrop Grumman's Cygnus space freighter attached to the Unity module. Thomas Pesquet of ESA (European Space Agency) recorded a science video for French students then photographed plants for the Eklosion botany study.
Commander Akihiko Hoshide of the Japan Aerospace Exploration Agency (JAXA) worked science maintenance and orbital plumbing tasks throughout Wednesday. At the end of the day, Hoshide installed an arm with a gripper on a pair of Astrobee robotic free-flyers to test mobility techniques.
After several days of spacewalk preparations to configure the Nauka Multipurpose Laboratory Module on Sept. 3 and 9, cosmonauts Oleg Novitskiy and Pyotr Dubrov turned their attention today to a variety of electronics and life support work in the station's Russian segment.