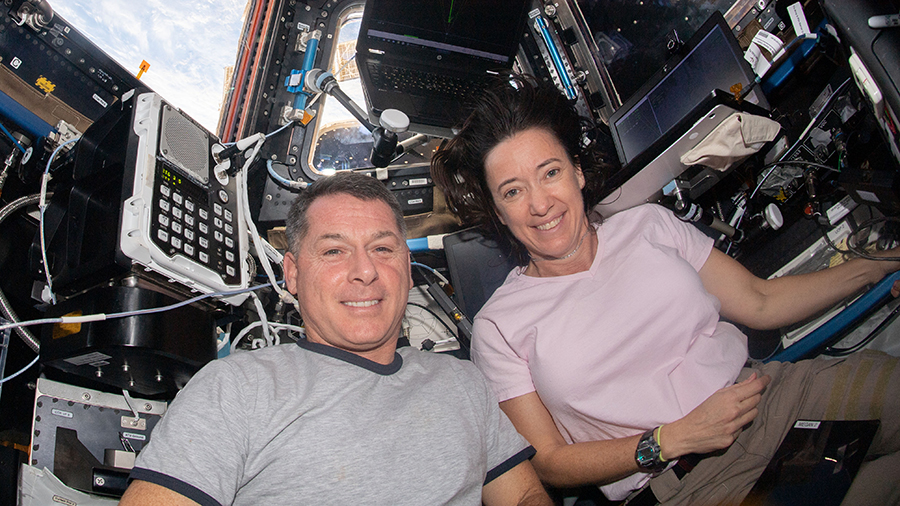 A U.S. cargo craft stands at its Florida launch pad less than 24 hours from a mission to resupply the International Space Station. Back in space, the Expedition 65 crew stayed focused on human research and while moving headlong toward upcoming spacewalks.
The SpaceX Falcon 9 rocket with the Cargo Dragon vehicle atop is counting down to a liftoff from NASA's Kennedy Space Center on Saturday at 3:37 a.m. It will arrive at the station on Sunday for an autonomous docking at 11 a.m. packed with over 4,800 pounds of new science experiments, crew supplies and lab hardware. The launch and docking will be broadcast live on NASA TV, the NASA app, and the agency's website.
Flight Engineers Megan McArthur and Shane Kimbrough will be on deck Sunday morning monitoring the Cargo Dragon's approach and rendezvous as it targets the Harmony module's forward international docking adapter. The duo was joined Friday afternoon by Flight Engineers Mark Vande Hei and Thomas Pesquet and Commander Akihiko Hoshide to review Dragon's cargo manifest and upcoming transfer activities.
Continuing ongoing space research, Pesquet and Hoshide started Friday morning taking turns on an ESA (European Space Agency) experiment to understand how living in space affects time perception and cognitive performance. They each wore virtual reality goggles and clicked on a track ball to measure their time reaction and how they estimate time duration.
In the orbiting lab's Russian segment, cosmonauts Oleg Novitskiy and Pyotr Dubrov are getting ready for two spacewalks to configure the Nauka Multipurpose Laboratory Module for upcoming science operations. First on Friday's schedule, the duo had a cardiovascular exam to monitor their physical fitness ahead of the excursions scheduled for Sept. 3 and 9. Next, the Roscosmos Flight Engineers were joined by Vande Hei in the afternoon installing lights and cameras on the Orlan spacesuit helmets.
The spacewalk that had been scheduled for Aug. 24 is being moved to Sept. 12. This is the earliest opportunity to accomplish U.S. EVA 77 after arrival of the SpaceX CRS-23 cargo Dragon spacecraft and the first two Russian spacewalks to begin outfitting the newly arrived Nauka laboratory. Mark Vande Hei will provide internal support for spacewalkers Thomas Pesquet of ESA (European Space Agency) and Akihiko Hoshide of the Japan Aerospace Exploration Agency (JAXA) while Vande Hei continues to recover from a minor medical issue. All spacewalkers are trained in a variety of tasks they may need to perform, and Pesquet has performed similar tasks in previous spacewalks. This will be the first spacewalk conducted out of the Quest airlock by two international partner astronauts at the space station.