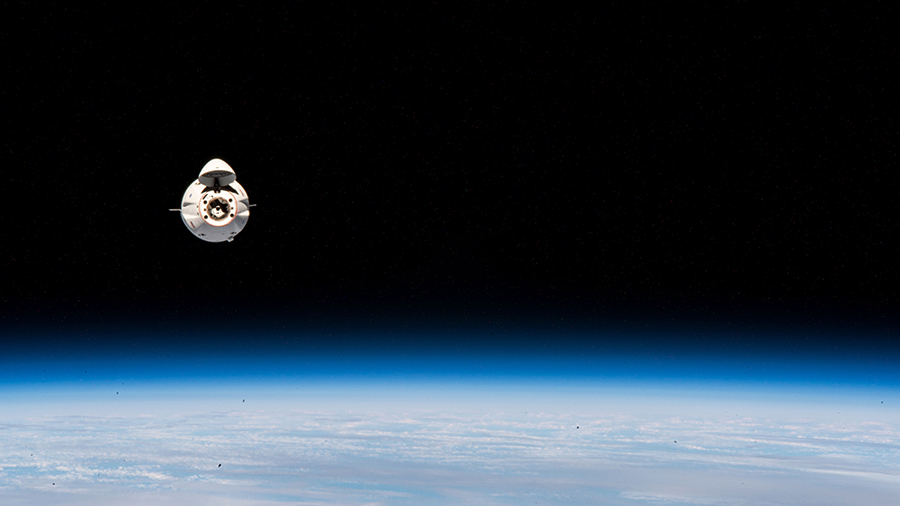 The Expedition 65 crew continued unloading a variety of cargo including rodents from the SpaceX Cargo Dragon today. The International Space Station residents are also headlong into preparations for two Russian spacewalks and one U.S. spacewalk.
Flight Engineers Shane Kimbrough of NASA and Thomas Pesquet of ESA (European Space Agency) spent Wednesday morning transferring rodents from the Cargo Dragon into a habitat in the U.S. Destiny laboratory module. The animals are being observed for the Rodent Research Demonstration-1 experiment that is exploring how microgravity affects the healing process.
Space botany is also a critical part of the station research program as scientists learn to support astronauts longer and farther in space. During a break in today's rodent transfers, Kimbrough serviced petri plates for the new APEX-08 investigation that is studying how plants adapt to space-caused stress.
NASA Flight Engineers Megan McArthur and Mark Vande Hei also partnered together unpacking science gear from Dragon. McArthur installed a new NanoRacks module, recently delivered aboard the U.S. space freighter, during the morning that will soon host science experiments. Vande Hei helped out in the afternoon continuing to unload the more than 4,800 pounds of research, crew supplies and hardware.
Pesquet will join Commander Akihiko Hoshide of the Japan Aerospace Exploration Agency (JAXA) for a spacewalk on Sept. 12 to modify the station's Port-4 (P4) truss structure. They will install a modification kit that will prepare the P4 for future Roll-Out Solar Array installation work. Hoshide worked Wednesday afternoon cleaning their U.S. spacesuit cooling loops today with assistance from Vande Hei.
The first two spacewalks will be conducted by Roscosmos Flight Engineers Oleg Novitskiy and Pyotr Dubrov. The duo will first exit the Poisk airlock on Friday at 10:35 a.m. EDT to route and mate power and ethernet cables on the Nauka multipurpose laboratory. The second spacewalk will be on Sept. 9 to install handrails and finish the cable work on Nauka. NASA TV will broadcast both excursions live.