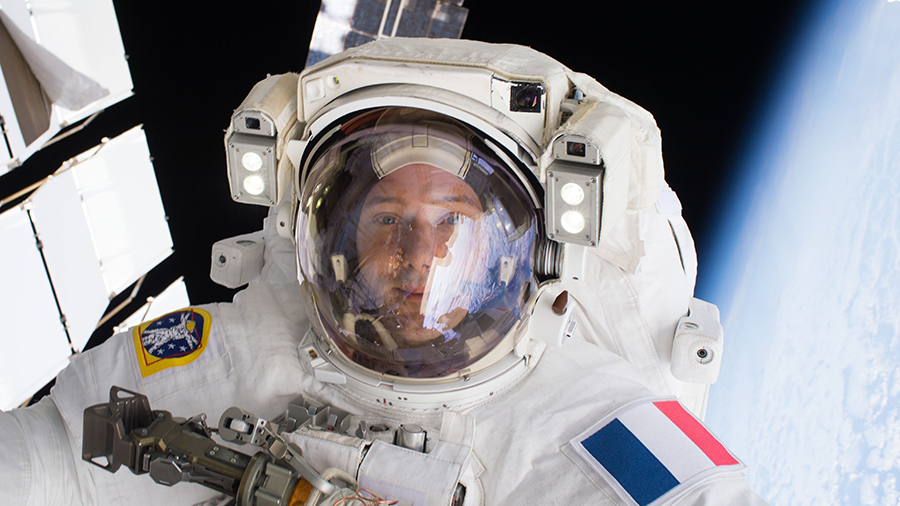 Two Expedition 65 astronauts are getting ready for a Sunday spacewalk to modify the International Space Station's power system. Meanwhile, the orbiting lab is hosting a variety of biology and botany research today as two cosmonauts clean up following Thursday's spacewalk.
International astronauts Akihiko Hoshide of the Japan Aerospace Exploration Agency (JAXA) and Thomas Pesquet of ESA (European Space Agency) are preparing for a six-and-a-half hour spacewalk on Sunday. They will set their U.S. spacesuits to battery power at 8:30 a.m. EDT, exit the station's U.S. Quest airlock, then translate to the Port-4 (P4) truss structure to install a modification kit. This will ready the P4 for a new Roll-Out Solar Array set to be delivered on a SpaceX Cargo Dragon mission next year. NASA TV will begin its live spacewalk coverage at 7 a.m. on the NASA app and the agency's website.
Hoshide and Pesquet still had plenty of time for microgravity research today as they gear up for Sunday's excursion. The JAXA astronaut, who is on his third space mission, serviced mouse embryo samples in the Kibo laboratory module to learn how the space environment affects key phases of reproduction. ESA Flight Engineer Pesquet set up the Columbus laboratory module and explored how the human central nervous system adapts to weightlessness.
NASA Flight Engineers Shane Kimbrough and Megan McArthur worked on two different space botany experiments today helping mission planners and doctors learn to sustain crews on longer space missions farther away from Earth. Kimbrough harvested plants growing on petri plates for the APEX-08 genetic expression study. McArthur cleaned up debris in the Kibo lab's Plant Habitat that is growing Hatch Green chiles for the Plant Habitat-04 space crop experiment.
NASA Flight Engineer Mark Vande Hei replaced components inside the Combustion Integrated Rack then relocated a detection device that studies the radiation spectrum onboard the station. Vande Hei also partnered with Hoshide and Pesquet assisting the duo with their spacewalk preparations.
Cosmonauts Oleg Novitskiy and Pyotr Dubrov slept in Friday morning following their seven-hour and 25-minute spacewalk on Thursday to connect data and communication cables to Russia's Nauka multipurpose laboratory module. The duo from Roscosmos then began disconnecting components on their Orlan spacesuits and stowing spacewalk gear in the orbiting lab's Russian segment.