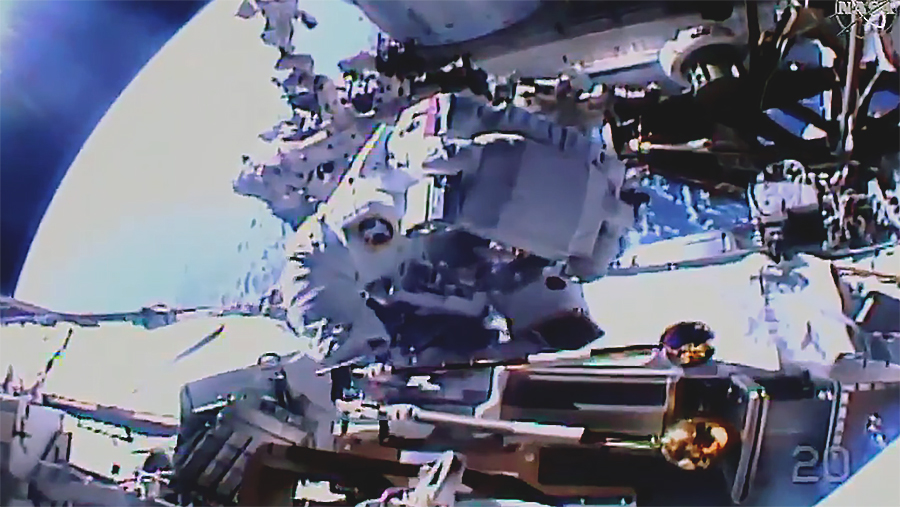 Astronauts Akihiko Hoshide of the Japan Aerospace Exploration Agency (JAXA) and Thomas Pesquet of ESA (European Space Agency) have concluded the first spacewalk conducted by two international partner astronauts out of the International Space Station's Quest airlock at 3:09 p.m. EDT, after 6 hours and 54 minutes.
Hoshide and Pesquet successfully assembled and attached a support bracket in preparation for future installation of the orbiting laboratory's third new solar array. NASA is augmenting six of the eight existing power channels of the space station with new solar arrays to ensure a sufficient power supply is maintained for NASA's exploration technology demonstrations for Artemis and beyond as well as utilization and commercialization.
The crew also replaced a device that measures the electrical charging potential of the arrays and associated surfaces in its vicinity, called a floating point measurement unit, on a separate truss section. The new device was powered on successfully.
This was the fourth spacewalk for Hoshide, the sixth for Pesquet, and the 12th spacewalk this year. Hoshide has now spent a total of 28 hours and 17 minutes spacewalking, and Pesquet's total spacewalking time is 39 hours and 54 minutes. Space station crew members have now spent a total of 64 days, 5 hours, and 54 minutes working outside the station conducting 244 spacewalks in support of assembly and maintenance of the orbiting laboratory.
In November 2020, the International Space Station surpassed its 20-year milestone of continuous human presence, providing opportunities for unique research and technological demonstrations that help prepare for long-duration missions to the Moon and Mars and also improve life on Earth. In that time, 244 people from 19 countries have visited the orbiting laboratory that has hosted nearly 3,000 research investigations from researchers in 108 countries and areas.
Learn more about station activities by following @space_station and @ISS_Research on Twitter as well as the ISS Facebook and ISS Instagram accounts.