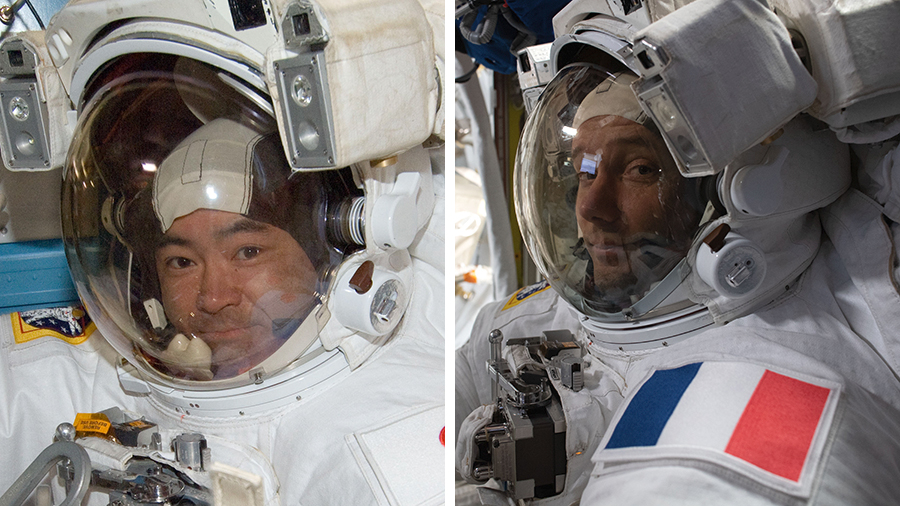 NASA Television coverage of today's spacewalk with astronauts Akihiko Hoshide of the Japan Aerospace Exploration Agency (JAXA) and Thomas Pesquet of ESA (European Space Agency) is now underway and is also available on the NASA app and the agency's website.
The crew members of Expedition 65 are preparing to go outside the International Space Station for a spacewalk scheduled to begin at approximately 8:30 a.m. EDT and last about six and a half hours. They are ahead of schedule.
The crew is in their spacesuits in the airlock in preparation to exit the space station and begin today's activities that will focus on attaching a support bracket in preparation for future installation of the orbiting laboratory's third new solar array. NASA astronauts Megan McArthur and Mark Vande Hei are assisting Hoshide and Pesquet in preparations before they exit the station.
Hoshide and Pesquet will work on the port side of the station's backbone truss structure closest to the station's pressurized living space, a position known as P4. They will work together to build a bracket structure and attach the bracket and support struts to the mast canister, the base, of one of the P4 solar arrays. The modification kit will prepare the site for future installation and deployment of the third of six new International Space Station Roll-Out Solar Arrays (iROSAs).
The crew also will replace a device that measures the electrical charging potential of the arrays and associated surfaces in its vicinity, called a floating point measurement unit, on a separate truss section.
Leading the mission control team today is Flight Director Adi Boulos with support from Sandy Moore as the lead spacewalk officer and NASA astronaut Jessica Watkins acting as the capsule communicator, or CAPCOM, to the crew.
Learn more about station activities by following @space_station and @ISS_Research on Twitter as well as the ISS Facebook and ISS Instagram accounts.