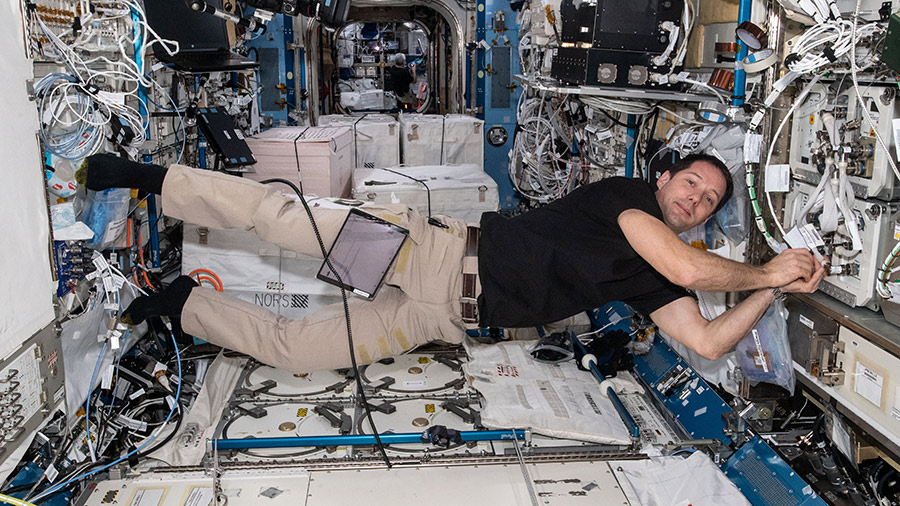 Five Expedition 66 crew members spent Thursday studying a variety of space phenomena while working on spacesuits and continuing the upkeep of the International Space Station. Two cosmonauts, in the meantime, will be monitoring the late night redocking of a Russian resupply ship.
NASA Flight Engineers Shane Kimbrough and Megan McArthur, also commander and pilot of the SpaceX Crew-2 mission, split their day packing up station gear and personal items inside the Crew Dragon Endeavour spacecraft. They and fellow astronauts Akihiko Hoshide and Thomas Pesquet are due to return to Earth and splashdown off the coast of Florida in early November aboard Endeavour ending their six-and-a-half month space mission.
Kimbrough also joined NASA Flight Engineer Mark Vande Hei for ongoing spacesuit work taking place inside the U.S. Quest airlock during the morning. The duo prepared the U.S. spacesuits for an upcoming spacewalk planned for after the arrival of the SpaceX Crew-3 mission. McArthur stowed hardware and checked valves after wrapping up two days of maintenance on the orbiting lab's oxygen generation system.
Hoshide of the Japan Aerospace Exploration Agency (JAXA) worked a pair of crystal physics experiments throughout the day. One study may help improve manufacturing processes, the other may advance drug production and increase biochemistry expertise in space. Two-time ESA (European Space Agency) astronaut Pesquet researched space ergonomics to help engineers design future space robot and spacecraft interfaces.
The ISS Progress 78 resupply ship from Roscosmos is trailing the station by over 100 miles after temporarily undocking from the Poisk module on Wednesday evening. Cosmonauts Pyotr Dubrov and Anton Shkaplerov will be on duty when it redocks to the Nauka multipurpose laboratory module just after midnight on Friday. The relocation maneuver will allow the Progress 78 to check the Nauka module's propellant lines for leaks before the new science module's thrusters resume orientation control.
Learn more about station activities by following the space station blog, @space_station and @ISS_Research on Twitter, as well as the ISS Facebook and ISS Instagram accounts.