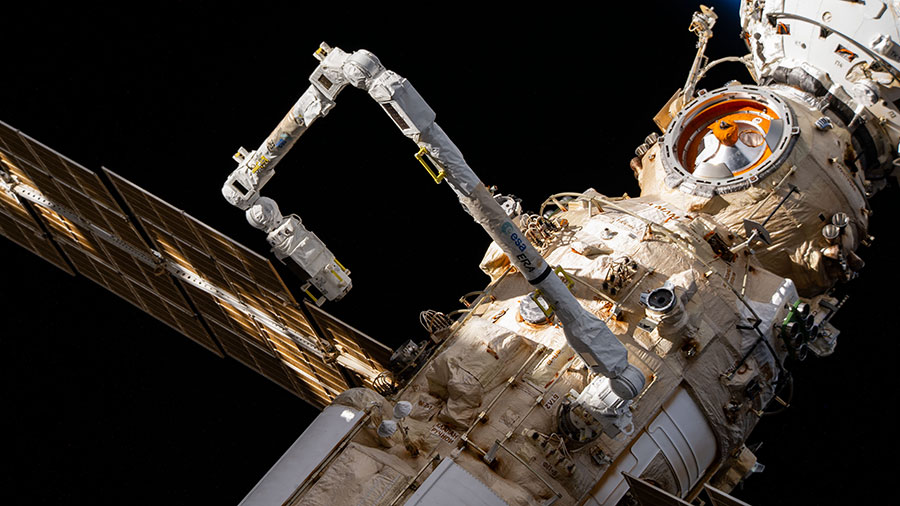 A Russian cosmonaut and an Italian astronaut are finalizing preparations for a spacewalk on Thursday to configure the International Space Station's third and newest robotic arm. As the pair was being assisted by two cosmonauts the rest of the Expedition 67 crew ensured ongoing advanced space research was proceeding full speed ahead aboard the orbiting lab.
Station Commander Oleg Artemyev of Roscosmos and Flight Engineer Samantha Cristoforetti of ESA (European Space Agency) are scheduled to exit the space station into the vacuum of space at 10 a.m. EDT on Thursday. The spacewalkers will spend about seven hours readying the European robotic arm for operations on the station's Russian segment. The duo will also deploy 10 nanosatellites to collect radio electronics data. NASA TV begins its live spacewalk coverage at 9:30 a.m. on the agency's app and website.
Artemyev and Cristoforetti spent Wednesday reviewing their spacewalk procedures and checking Orlan spacesuit components. They were assisted throughout the day by cosmonauts Denis Matveev and Sergey Korsakov who will monitor the spacewalkers and help them in and out of their Orlan spacesuits on Thursday.
Science operations continued rolling ahead as the rest of the orbital residents explored space-caused accelerated aging, advanced drug development methods, and state-of-the-art optical fiber manufacturing techniques.
NASA Flight Engineers Bob Hines and Jessica Watkins took turns today exploring how microgravity affects the human immune system. Hines first set up tissue samples inside the Kibo laboratory module's Life Science Glovebox. Afterward, Watkins examined the stem cell samples using a microscope inside the U.S. Destiny laboratory module. Watkins also spent a few moments today checking samples for the Fiber Optic Production-2 space manufacturing study.
NASA Flight Engineer Kjell Lindgren studied the mechanisms of protein crystals growing without the influence of Earth's gravity. Observations from the Advanced Nano Step investigation may improve biochemistry research and advance the production of materials and drugs in space. Lindgren then checked on a water recycling study and stowed its hardware for return to Earth.
---
Learn more about station activities by following the space station blog, @space_station and @ISS_Research on Twitter, as well as the ISS Facebook and ISS Instagram accounts.
Get weekly video highlights at: http://jscfeatures.jsc.nasa.gov/videoupdate/
Get the latest from NASA delivered every week. Subscribe here: www.nasa.gov/subscribe