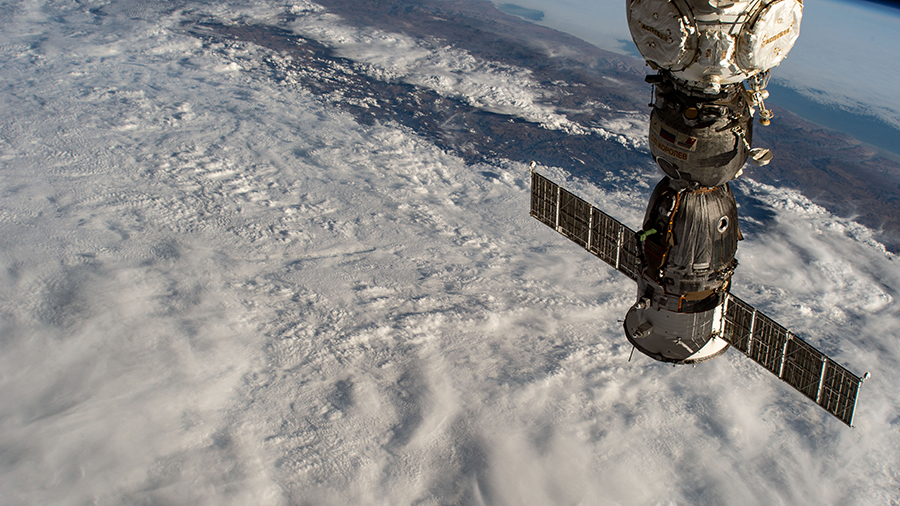 The orbiting lab's three newest residents are beginning their science and maintenance tasks after several days of International Space Station orientation and familiarization activities. In the meantime, three Expedition 67 crew members are less than a week away from ending their mission and returning to Earth after living and working in space for six months.
NASA Flight Engineer Frank Rubio kicked off his first full week on the station with a physics study that uses artificial intelligence to adapt materials manufacturing to the vacuum of space. He began Monday morning setting up the Microgravity Science Glovebox and servicing components inside the research device. Rubio then spent the afternoon preparing complex glass samples inside the glovebox for future experiment runs. The Intelligent Glass Optics investigation may help advance Earth and space-based industries including communications, aerospace, medicine, and astronomy.
Rubio's cosmonaut crewmates, Flight Engineers Sergey Prokopyev and Dmitri Petelin, who rode with him to the station last week began their week with a variety of research and maintenance activities. Prokopyev started his day on water transfer activities before helping pack a Soyuz crew ship for its return to Earth on Thursday. Petelin also worked on water transfers throughout the day and explored how spaceflight affects the human immune system.
The station's population will go back to seven crew members on Thursday after three cosmonauts undock in their Soyuz MS-21 crew vehicle and parachute to a landing in Kazakhstan. Station Commander Oleg Artemyev will board the Soyuz crew ship with Flight Engineers Denis Matveev and Sergey Korsakov and undock from the Prichal module at 3:34 a.m. EDT on Thursday. The trio will parachute to a landing in the steppe of Kazakhstan less than three-and-a-half hours later. NASA TV will broadcast the undocking and landing activities live on the agency's app and website beginning at 3:15 a.m.
Artemyev will hand over station leadership responsibilities to ESA (European Space Agency) astronaut Samantha Cristoforetti the day before he departs. The traditional Change of Command ceremony will be seen live on NASA TV starting at 9:35 a.m. on Wednesday.
The space station's four other flight engineers stayed busy throughout Monday on a host of research activities including biology, botany, and combustion. NASA astronaut Jessica Watkins wore a specialized vest and headband beginning a two-day session to record her health functions for the Bio-Monitor study. NASA astronaut Bob Hines nourished and inspected plants growing for the XROOTS space agriculture study. Flight Engineer Kjell Lindgren of NASA set up the Confocal space microscope to study how microgravity affects the nervous system. Finally, Cristoforetti rerouted cables for a combustion research device to ensure its igniter can move correctly.
---
Learn more about station activities by following the space station blog, @space_station and @ISS_Research on Twitter, as well as the ISS Facebook and ISS Instagram accounts.
Get weekly video highlights at: http://jscfeatures.jsc.nasa.gov/videoupdate/
Get the latest from NASA delivered every week. Subscribe here: www.nasa.gov/subscribe