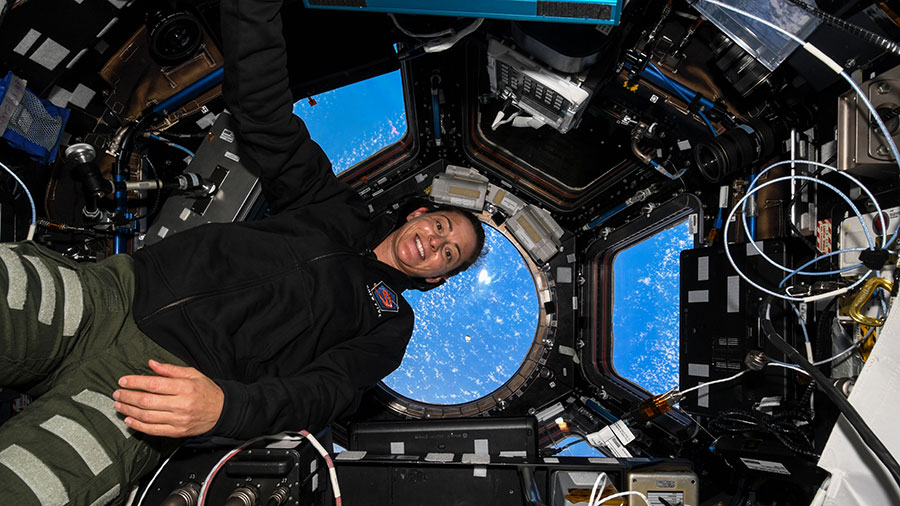 Science and spacewalk preparations kept the Expedition 68 crew busy throughout Wednesday. Meanwhile, the International Space Station is orbiting slightly higher after a docked cargo craft fired its engines during the morning.
NASA astronauts Nicole Mann and Frank Rubio began the morning cleaning and stowing biology hardware used to transfer research samples from the SpaceX Dragon resupply ship into the space station's U.S. Destiny laboratory module. Those samples will soon be examined to understand how microgravity affects the regeneration of skeletal stem cells possibly improving therapies for bone conditions on Earth and in space.
NASA Flight Engineer Josh Cassada started his day supporting student-designed botany experiments packed inside specialized tubes delivered aboard Dragon. Flight Engineer Koichi Wakata of the Japan Aerospace Exploration Agency (JAXA) peered at microscopic worms inside the Confocal microscope for deeper insight into how the nervous system adapts to weightlessness. Observations may help doctors keep astronauts healthy in space and design therapies for neuromuscular diseases such as Parkinson's.
After working on advanced science experiments during the morning, all four astronauts joined each other and reviewed plans for Saturday's spacewalk set to start at 7:25 a.m. EST. Cassada and Rubio will exit the station for a seven-hour job to install a new roll-out solar array on the station's starboard truss structure. Mann and Wakata will support the duo in and out of their Extravehicular Mobility Units (EMUs), or spacesuits, and operate the Canadarm2 robotic arm during the spacewalk.
Station Commander Sergey Prokopyev from Roscosmos worked inside the Zvezda service module replacing life support gear on Wednesday afternoon after completing a heart-monitoring session during the morning. Flight Engineer Dmitri Petelin continued the heart research and attached sensors to himself to monitor his cardiac activity and blood pressure for 24 hours. Petelin then spent the rest of the day cleaning hydraulic components inside a Russian Orlan spacesuit. Flight Engineer Anna Kikina analyzed the Zarya module's power supply system using an oscilloscope and infrared camera before conducting ventilation maintenance inside Zvezda.
A docked ISS Progress 81 space freighter fired its engines for 12 minutes early Wednesday raising the station's altitude. The orbital reboost places the station at the correct altitude for an upcoming crew swap planned for early spring.
---
Learn more about station activities by following the space station blog, @space_station and @ISS_Research on Twitter, as well as the ISS Facebook and ISS Instagram accounts.
Get weekly video highlights at: http://jscfeatures.jsc.nasa.gov/videoupdate/
Get the latest from NASA delivered every week. Subscribe here: www.nasa.gov/subscribe