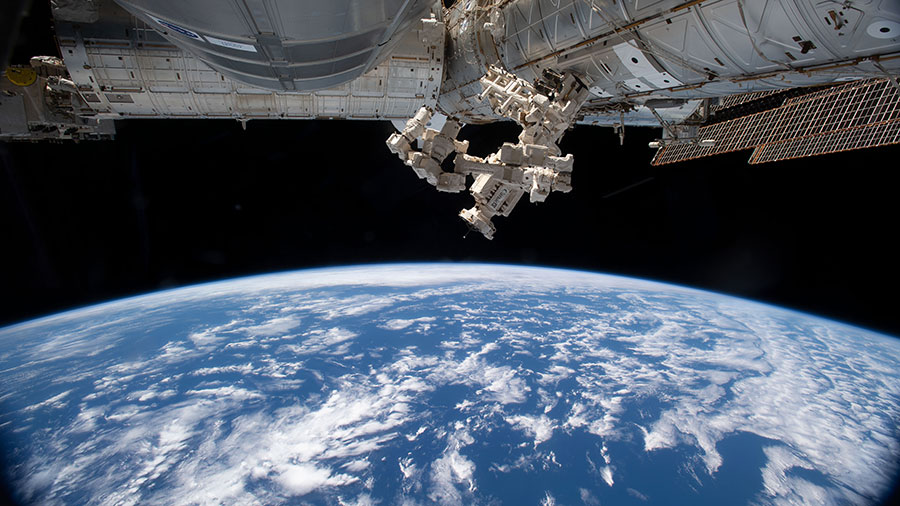 Two astronauts are preparing to exit the International Space Station on Saturday to install a new roll-out solar array. Their Expedition 68 crewmates assisted the duo on Friday while continuing an array of advanced space science and orbital lab maintenance.
NASA Flight Engineers Josh Cassada and Frank Rubio spent Friday checking their batteries, tools, and cameras they will use on a spacewalk scheduled to begin at 7:25 a.m. EST on Saturday. The duo will exit the Quest airlock in their Extravehicular Mobility Units (EMUs), or spacesuits, and translate over to the Starboard- 4 truss segment worksite for the seven-hour spacewalk. Once there, the spacewalkers will install the new roll-out-solar array, also known as an International Space Station Roll-Out Solar Array, or iROSA, augmenting the station's power generation system.
Astronauts Nicole Mann of NASA and Koichi Wakata of the Japan Aerospace Exploration Agency (JAXA) reviewed today the steps they will need to assist Cassada and Rubio during Saturday's spacewalk. The pair will assist the astronauts in and out of their EMUs, maneuver the Canadarm2 robotic arm, as well as monitor the spacewalkers during the excursion.
Mann kicked off Friday morning as crew medical officer and conducted a health examination on Cassada and Rubio which is standard the day before a spacewalk. Mann measured the astronauts' vital signs including temperature, blood pressure, pulse, and respiratory rate.
Aside from assisting with spacewalk preparations, Wakata also had time for a variety of science activities at the end of the week. He started the morning inside the cupola photographing four different small satellites as they were deployed into Earth orbit from outside the Kibo laboratory module. The veteran space station resident then replaced components inside the TangoLab space research and development facility. Finally, Wakata took samples out of the BioLab incubator and photographed them for the Sutures in Space investigation that observes wound healing in microgravity.
Station Commander Sergey Prokopyev of Roscosmos tested 3-D printing in space before photographing station crew activities such as research, maintenance, and exercise. Flight Engineer Dmitri Petelin also participated in the crew photography session before servicing the Zvezda service module's ventilation system. Flight Engineer Anna Kikina worked on Zvezda's power supply system and photographed the interior condition of the Rassvet and Poisk modules.
---
Learn more about station activities by following the space station blog, @space_station and @ISS_Research on Twitter, as well as the ISS Facebook and ISS Instagram accounts.
Get weekly video highlights at: http://jscfeatures.jsc.nasa.gov/videoupdate/
Get the latest from NASA delivered every week. Subscribe here: www.nasa.gov/subscribe