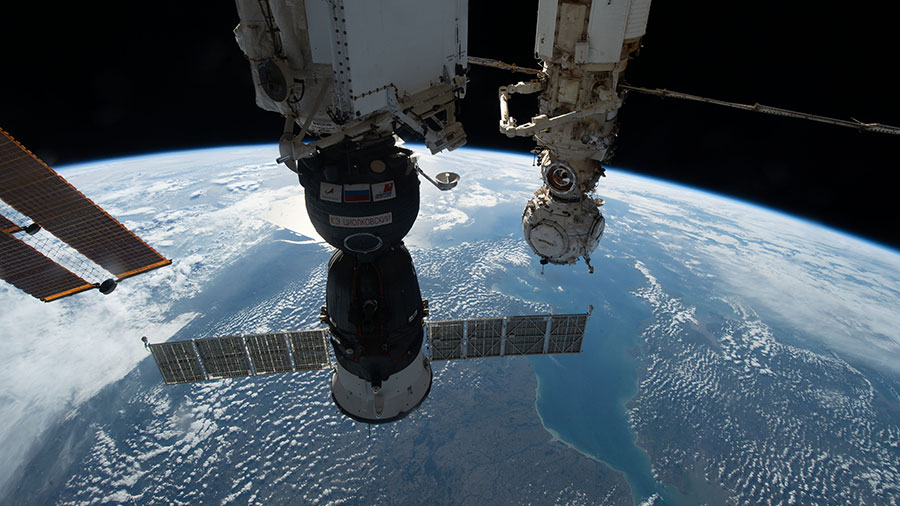 On Wednesday, Dec. 14, an external leak was detected from the Roscosmos Soyuz MS-22 spacecraft docked to the Rassvet module on the International Space Station. The external radiator cooling loop of the Soyuz is the suspected leak source.
The Roscosmos Mission Control team in Moscow postponed Wednesday evening's planned spacewalk with two cosmonauts to evaluate the situation and data from the Soyuz spacecraft. None of the crew members aboard the space station was in danger, and all conducted normal operations throughout the day.
Roscosmos is closely monitoring Soyuz spacecraft temperatures, which remain within acceptable limits. NASA and Roscosmos continue to coordinate external imagery and inspection plans to aid in evaluating the external leak location. Plans for an additional inspection of the Soyuz exterior using the station's Canadarm2 robotic arm are underway.
The leak was first detected around 7:45 p.m. EST Dec. 14 when data from multiple pressure sensors in the cooling loop showed low readings. At that time, cosmonauts Sergey Prokopyev and Dmitri Petelin were preparing to conduct a spacewalk. The cosmonauts did not exit the space station, and no crew members were exposed to the leaking coolant.
The Soyuz MS-22 spacecraft carried NASA astronaut Frank Rubio and Roscosmos cosmonauts Sergey Prokopyev and Dmitri Petelin into space after launching from the Baikonur Cosmodrome in Kazakhstan on Sept. 21.
The crew aboard station completed normal operations Thursday, including participating in science investigations and research, as well as configuring tools ahead of a planned U.S. spacewalk on Monday, Dec. 19. Specialists are working through robotic plans ahead of Monday's spacewalk to best optimize for upcoming station operations and the Soyuz inspection.
A Roscosmos spacewalk scheduled for Dec. 21 is indefinitely postponed as the team continues its investigation of the Soyuz spacecraft.
More updates will be provided as data becomes available.
---
Learn more about station activities by following the space station blog, @space_station and @ISS_Research on Twitter, as well as the ISS Facebook and ISS Instagram accounts.
Get weekly video highlights at: https://roundupreads.jsc.nasa.gov/videoupdate/
Get the latest from NASA delivered every week. Subscribe here: www.nasa.gov/subscribe