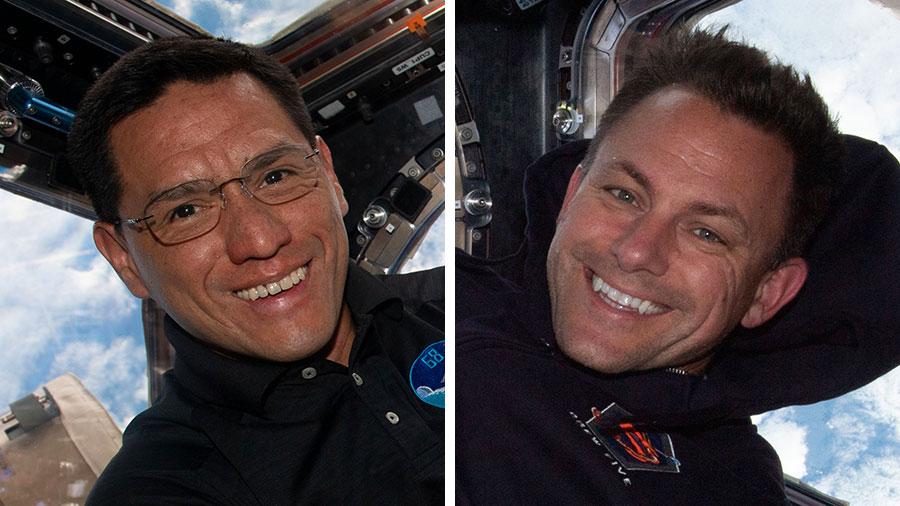 NASA astronauts Frank Rubio and Josh Cassada are now scheduled to begin a spacewalk at 8:30 a.m. EST Thursday to augment the International Space Station's power generation system. Wednesday's spacewalk was postponed for 24 hours so that the orbiting lab's ISS Progress 81 cargo craft could fire its engines at 8:42 a.m. to maneuver the station and avoid an approaching piece of rocket debris.
Spacewalkers Rubio and Cassada will install another roll-out solar array, also known as an International Space Station Roll-Out Solar Array (iROSA), on the space station's truss structure. This time the duo will maneuver to the opposite side of the station and install the fourth iROSA on the Port-4 truss structure. The external installation job will last about seven hours and broadcast live on NASA TV on the agency's app and its website.
Expedition 68 Flight Engineers Nicole Mann of NASA and Koichi Wakata of the Japan Aerospace Exploration Agency (JAXA) will operate the Canadarm2 robotic arm to support the spacewalkers during the fine-tuned iROSA installation job. The duo will also assist Rubio and Cassada in and out of their spacesuits, also known as Extravehicular Mobility Units (EMUs), in the Quest airlock before and after their spacewalk.
While Thursday's spacewalk is under way, NASA space station program manager Joel Montalbano and Roscosmos human spaceflight executive director Sergei Krikalev will hold an audio-only media teleconference 11 a.m. The two space executives will discuss the ongoing investigation of an external leak detected on the Soyuz MS-22 crew ship on a live audio call streaming on NASA's website at https://www.nasa.gov/live.
The three cosmonauts representing Expedition 68, Commander Sergey Prokopyev and Flight Engineers Dmitri Petelin and Anna Kikina, stayed focused on lab maintenance servicing and cleaning a variety station hardware today.
---
Learn more about station activities by following the space station blog, @space_station and @ISS_Research on Twitter, as well as the ISS Facebook and ISS Instagram accounts.
Get weekly video highlights at: https://roundupreads.jsc.nasa.gov/videoupdate/
Get the latest from NASA delivered every week. Subscribe here: www.nasa.gov/subscribe