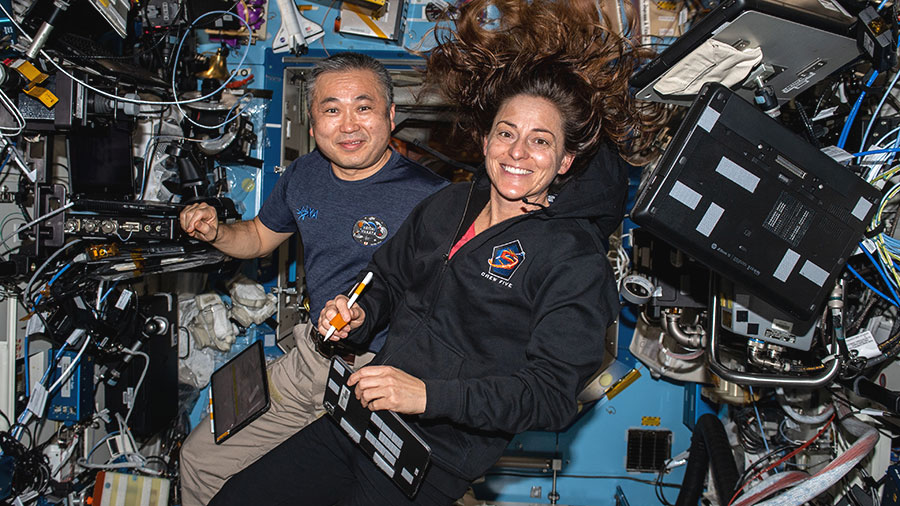 Spacewalk preparations continue onboard the International Space Station as the Expedition 68 crew begins it weekend. The orbital residents also worked on space botany and robotics while maintaining orbital lab operations on Friday.
Astronauts Nicole Mann of NASA and Koichi Wakata of the Japan Aerospace Exploration Agency (JAXA) worked throughout Friday familiarizing themselves with an upcoming spacewalk. The pair was joined by NASA Flight Engineers Josh Cassada and Frank Rubio for computerized spacewalk training and a conference with specialists on the ground. Two astronauts are scheduled exit the station and mount hardware on the truss structure readying the orbital lab for its next roll-out solar array.
Cassada also continued tending to tomato plants growing for the Veg-05 space botany study and worked on cargo transfers inside the Cygnus space freighter from Northrop Grumman. Rubio inspected emergency hardware than took a computerized robotics test to remain proficient when operating the Canadarm2 robotic arm.
Wakata repaired components on a multipurpose small payload rack in the Kibo laboratory module that supports a wide variety of research and educational activities in space. Mann spent some time tightening screws on the advanced resistive exercise device located in the Tranquility module.
Commander Sergey Prokopyev of Roscosmos worked on a variety of maintenance tasks inside the Zvezda service module on Friday. Flight Engineer Dmitri Petelin transferred cargo from inside the ISS Progress 82 cargo craft and updated the station's inventory management system. Flight Engineer Anna Kikina set up video equipment to record an exercise session then tested laptop computers inside the Nauka multipurpose laboratory module.
On Thursday, Jan. 12, the International Space Station mission management team polled "go" to move NASA astronaut Frank Rubio's Soyuz seat liner from the Soyuz MS-22 spacecraft to Dragon Endurance to provide lifeboat capabilities in the event Rubio would need to return to Earth because of an emergency evacuation from the space station. The seat liner move is scheduled to begin Tuesday, Jan. 17, with installation and configuration continuing through most of the day Wednesday, Jan. 18. The change allows for increased crew protection by reducing the heat load inside the MS-22 spacecraft for cosmonauts Prokopyev and Petelin in the event of an emergency return to Earth.
Once the replacement Soyuz MS-23 arrives at the space station on Feb. 22, Rubio's seat liner will be transferred to the new Soyuz and the seat liners for Prokopyev and Petelin will be moved from MS-22 to MS-23 ahead of their return in the Soyuz.
---
Learn more about station activities by following the space station blog, @space_station and @ISS_Research on Twitter, as well as the ISS Facebook and ISS Instagram accounts.
Get weekly video highlights at: https://roundupreads.jsc.nasa.gov/videoupdate/
Get the latest from NASA delivered every week. Subscribe here: www.nasa.gov/subscribe