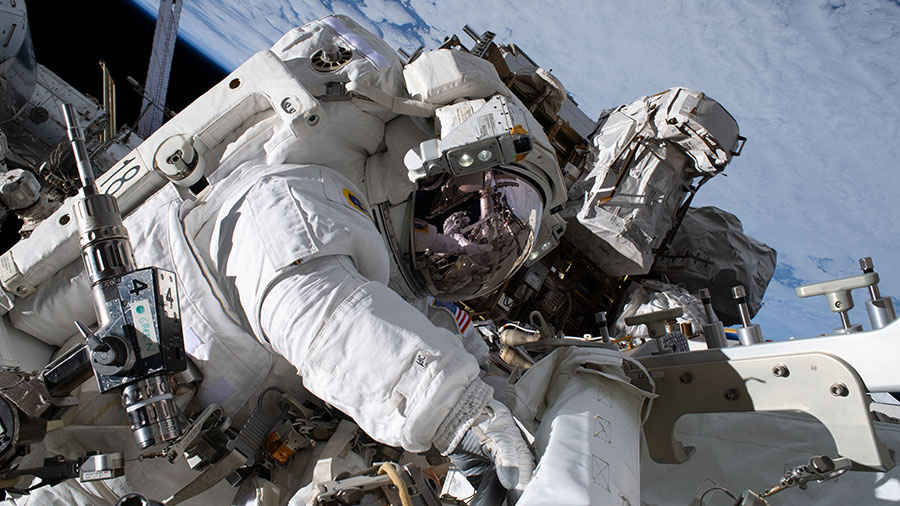 The Expedition 68 astronauts are cleaning up following three days of advanced bone repair studies while getting ready for an upcoming spacewalk. The International Space Station's three cosmonauts continued their space physics and Earth imagery work, as well as maintained orbital lab systems.
NASA Flight Engineers Josh Cassada and Frank Rubio are cleaning up biology research hardware and finalizing sample processing after three full days of bone healing research. The duo worked inside the Kibo laboratory module servicing the samples then stowing them into science freezers. Those samples will be packed on a future SpaceX Dragon cargo mission for return then analyzed and compared to control samples in laboratories on Earth. The two astronauts also cleaned Kibo's Life Science Glovebox and its components where the intensive bone investigation work took place this week.
Cassada also worked on space agriculture today collecting leaves from thale cress plants housed inside the Advanced Plant Habitat for stowage and analysis on Earth. He later tended to tomato plants growing inside the Veggie space botany facility for the Veg-05 experiment. Both studies are taking place inside the Columbus laboratory module.
Japan Aerospace Exploration Agency (JAXA) astronaut Koichi Wakata explored ways to enable on-demand production of nutrients for astronauts on long-term missions to the Moon, Mars, and beyond. The technology demonstration uses engineered microbes, or yeast, to ensure a safe and simple food production environment in space and offset the degradation of nutrients stowed over long periods.
The next spacewalk to continue upgrading the orbiting lab's power generation system is planned for Feb. 2. Two spacewalkers will exit the Quest airlock in their Extravehicular Mobility Units (EMUs), or spacesuits, to finish installing a modification kit on the starboard truss structure. The hardware installation job will ready the space station for its next roll-out solar array. Ahead of the upcoming spacewalk, spacesuit gloves and tethers were inspected.
Commander Sergey Prokopyev continued more space physics experiment runs on Thursday as he explored how clouds of highly charged particles, or plasma crystals, behave in microgravity. Flight Engineer Dmitri Petelin of Roscosmos spent his day on life support maintenance before partnering with fellow cosmonaut Anna Kikina for ultrasound eye scans. Kikina resumed her Earth observations using ultraviolet imaging hardware to obtain a map of the nighttime glow of Earth's atmosphere.
---
Learn more about station activities by following the space station blog, @space_station and @ISS_Research on Twitter, as well as the ISS Facebook and ISS Instagram accounts.
Get weekly video highlights at: https://roundupreads.jsc.nasa.gov/videoupdate/
Get the latest from NASA delivered every week. Subscribe here: www.nasa.gov/subscribe