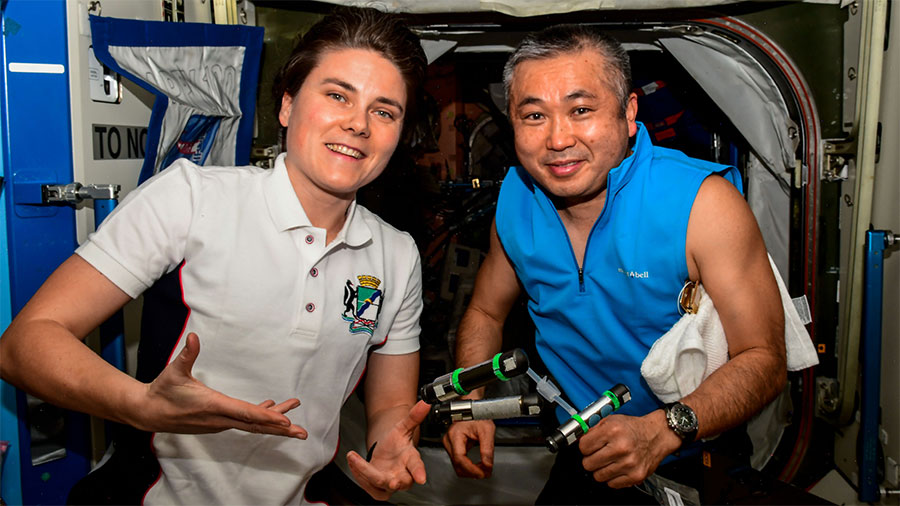 The Expedition 68 crew members turned their attention toward understanding how muscles adapt to microgravity on Friday after intensive bone studies earlier in the week. The International Space Station residents also continued processing the bone research samples, worked on orbital plumbing, and resumed spacewalk preparations.
NASA Flight Engineers Josh Cassada and Frank Rubio were back in the Kibo laboratory module on Friday cleaning up after completing work for an advanced bone healing study. The duo finalized sample processing in Kibo's Life Science Glovebox, stowed the samples in a science freezer, then cleaned up the research hardware and its components. Those samples will be returned to Earth and compared to a control group to study the effectiveness of a new bone-graft adhesive. Results may improve the healing ability of bone fractures and the treatment of bone defects on and off the Earth.
The duo later joined Flight Engineers Nicole Mann of NASA and Koichi Wakata of the Japan Aerospace Exploration Agency (JAXA) configuring spacewalk hardware and reviewing procedures for an upcoming spacewalk. Mann and Wakata will spend about six-and-a-half hours in the vacuum of space in their Extravehicular Mobility Units (EMUs), or spacesuits, next week. The spacewalkers will continue upgrading the power generation system on the space station's starboard truss structure beginning at 8:15 a.m. EST on Thursday, Feb. 2.
Mann and Wakata began their day inside the Columbus laboratory module for the long-running Myotones muscle study. The investigation entails scanning the back, neck, leg, and arm muscles with a specialized device to understand how living in space affects an astronaut's muscle tone, stiffness, and elasticity. Observations my provide therapeutic insights for muscle conditions in space and on the ground.
Following four days of space physics research, Commander Sergey Prokopyev spent Friday servicing hatch components inside the ISS Progress 81 resupply ship ahead of its departure in early February. Flight Engineer Dmitri Petelin spent the first part of his day working on life support hardware before assessing the stowage volume inside the Nauka multipurpose laboratory module. Flight Engineer Anna Kikina worked throughout the day servicing a variety of life support gear and cleaning ventilation systems.
---
Learn more about station activities by following the space station blog, @space_station and @ISS_Research on Twitter, as well as the ISS Facebook and ISS Instagram accounts.
Get weekly video highlights at: https://roundupreads.jsc.nasa.gov/videoupdate/
Get the latest from NASA delivered every week. Subscribe here: www.nasa.gov/subscribe