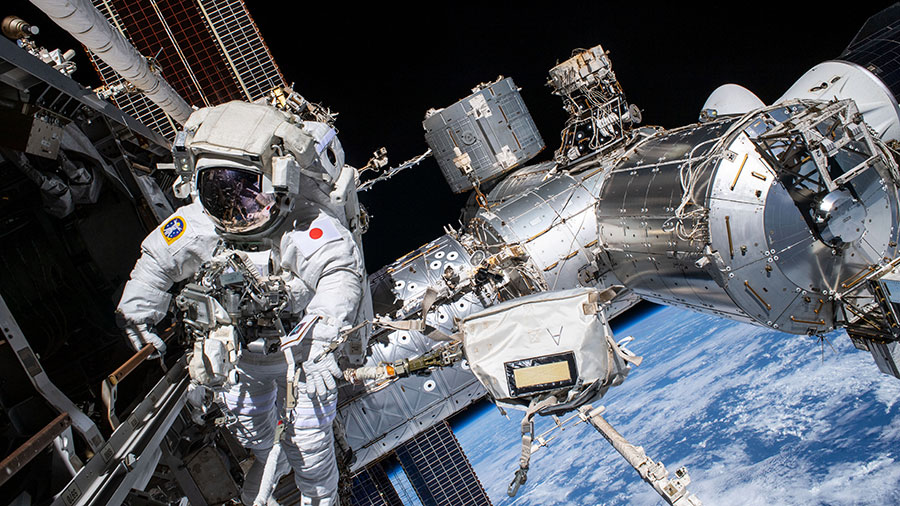 A new cargo mission stands ready to launch early Thursday and dock to the International Space Station two days later. Meanwhile, the Expedition 68 crew switched roles between space scientists and orbital plumbers on Wednesday promoting advanced knowledge and maintaining life support systems.
A rocket packed with about three tons of food, fuel, and supplies, is ready to launch from the Baikonur Cosmodrome in Kazakhstan and resupply the crew. The ISS Progress 83 (83P) cargo craft will blast off at 1:15 a.m. EST on Thursday for a two-day trek to the orbital outpost. The 83P will orbit Earth 34 times before catching up to the space station and docking automatically at 3:49 a.m. on Saturday to the Zvezda service module's rear port. NASA TV will cover both events live on the agency's app and website.
Brain research was on the science schedule on Wednesday as NASA Flight Engineer Nicole Mann explored how it regulates blood pressure in weightlessness. She set up medical monitoring hardware inside the Kibo laboratory module to learn how the brain manages blood flow with potential benefits for humans living on Earth and in space.
Flight Engineer Koichi Wakata of the Japan Aerospace Exploration Agency (JAXA) worked throughout Wednesday processing his blood and urine samples using the Human Research Facility. He spun the blood samples in a centrifuge then collected the biomedical samples and stowed them in a science freezer for later analysis.
From performing advanced space research to working on orbital plumbing, the well-trained astronauts and cosmonauts also ensure their orbital home and workplace remains in tip-top shape. NASA Flight Engineer Frank Rubio was back inside the Tranquility module inspecting a new toilet for a test of its operations before it sees use in the Orion crew ship on the upcoming Artemis missions to the Moon. NASA Flight Engineer Josh Cassada spent his day carefully inspecting module hatch seals and cleaning smoke detectors inside the Unity module.
The three Expedition 68 cosmonauts spent their day servicing a variety of life support components and conducting human research. Roscosmos Commander Sergey Prokopyev charged batteries in a carbon dioxide monitor and downloaded its data for review on the ground. Flight Engineers Dmitri Petelin and Anna Kikina partnered together for ultrasound scans of the gastrointestinal tract to understand how microgravity affects the digestive system. The cosmonaut trio also split its day working electronics maintenance and plumbing tasks.
All seven crew members gathered together after lunch time and practiced their emergency response skills using computer tablets for guidance. The septet familiarized themselves with procedures for reacting to unlikely contingencies such as a depressurization event, a chemical leak, or a fire. The orbital residents also located emergency equipment and coordinated communications with mission controllers from around the world.
---
Learn more about station activities by following the space station blog, @space_station and @ISS_Research on Twitter, as well as the ISS Facebook and ISS Instagram accounts.
Get weekly video highlights at: https://roundupreads.jsc.nasa.gov/videupdate/
Get the latest from NASA delivered every week. Subscribe here: www.nasa.gov/subscribe