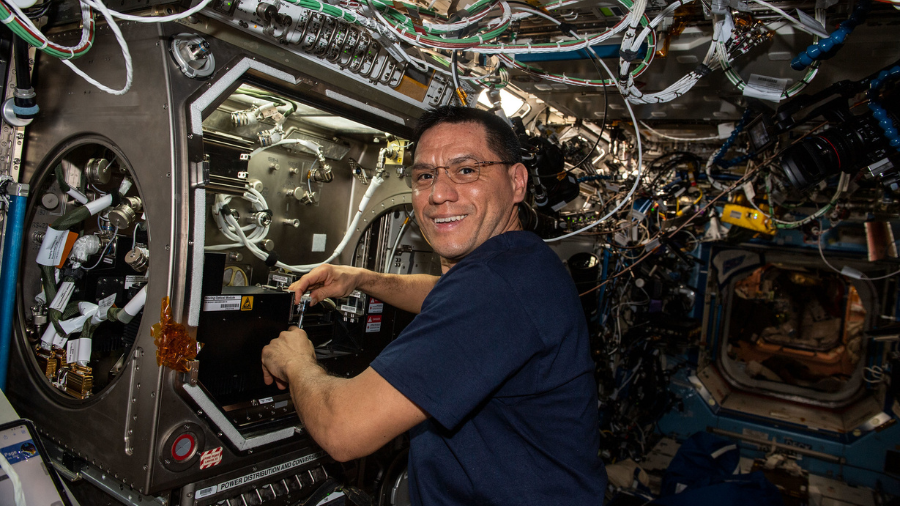 The International Space Station will see a new cargo mission arrive early Saturday, replenishing the Expedition 68 crew. While they wait, the orbital residents continued exploring how microgravity affects the brain and the digestive system while maintaining orbital lab systems.
The ISS Progress 83 (83P) cargo craft continues its orbital trek to deliver nearly three tons of food, fuel, and supplies to the station's residents. The resupply ship from Roscosmos will automatically dock to the Zvezda service module's rear port at 3:49 a.m. EST on Saturday. Commander Sergey Prokopyev and Flight Engineer Dmitri Petelin will be on-duty to monitor the automated approach and rendezvous of the 83P. Afterward, the duo will wait for the pressure to equalize between the cargo craft and the station before opening the hatches and transferring the six-month supply of cargo.
Prokopyev and Petelin called down to mission controllers on Friday and discussed preparations for the arrival of the 83P. The cosmonaut pair also reviewed operations for Zvezda's telerobotically operated rendezvous system, or TORU, in the unlikely event the cargo craft would need to be remotely controlled from inside the station for a docking.
Human research dominated this week's science operations as the crewmates have been studying how living in space impacts blood pressure and digestion. Flight Engineer Nicole Mann of NASA on Friday morning wore a head probe and attached sensors to her chest to measure her blood flow and learn how the brain regulates blood pressure in weightlessness. During the afternoon, she joined fellow NASA astronaut Josh Cassada for another investigation that observes the cardiorespiratory system while exercising on the station. Both studies have the potential to promote healthier humans on Earth and in space.
Roscosmos Flight Engineer Anna Kikina joined Petelin once again Friday morning using biomedical monitoring equipment to observe how their digestion system behaves when eating a meal in space. After breakfast, the duo placed electrodes on themselves and conducted ultrasound scans of their gastrointestinal system for insights into the effects of microgravity on the human body.
Flight Engineers Frank Rubio of NASA and Koichi Wakata of the Japan Aerospace Exploration Agency (JAXA) worked on a variety of orbital maintenance tasks. Rubio continued working in the Tranquility module replacing components in the station's bathroom, also known as the Waste and Hygiene Compartment. He later swapped metallic samples inside the Materials Science Laboratory to gain new insights into the development of metal alloys. Wakata worked in the Kibo laboratory module disassembling orbital plumbing gear before moving on to the Quest airlock and configuring batteries.
---
Learn more about station activities by following the space station blog, @space_station and @ISS_Research on Twitter, as well as the ISS Facebook and ISS Instagram accounts.
Get weekly video highlights at: https://roundupreads.jsc.nasa.gov/videoupdate/
Get the latest from NASA delivered every week. Subscribe here: www.nasa.gov/subscribe