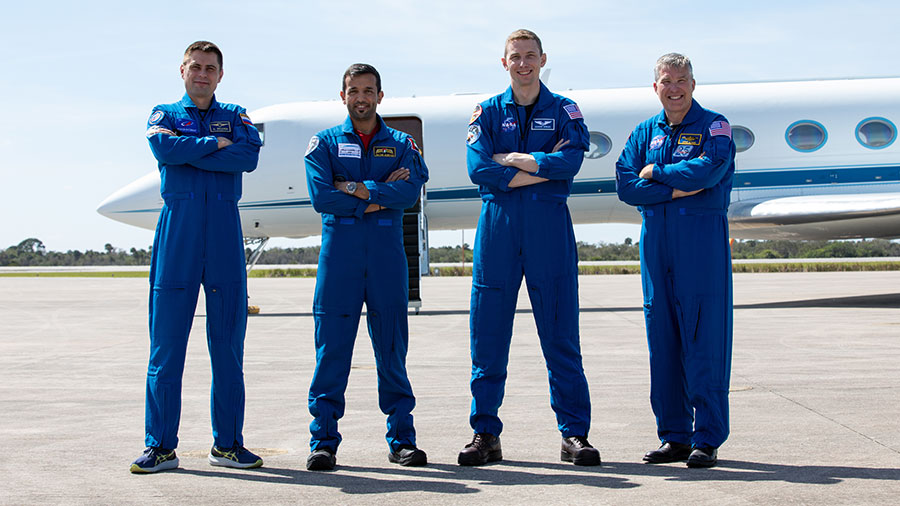 Four Expedition 68 crew members are preparing for their return to Earth next month while also working on space physics and household maintenance tasks. Meanwhile, a two crew ships, one from Roscosmos and one from SpaceX, are nearing their launch to the International Space Station.
NASA Flight Engineers Nicole Mann and Josh Cassada reviewed their upcoming departure procedures today ahead of next month's planned return to Earth inside the SpaceX Crew Dragon Endurance. The duo were joined by Flight Engineers Koichi Wakata of the Japan Aerospace Exploration Agency (JAXA) and Anna Kikina of Roscosmos as they looked over the steps they will take during their homebound flight.
The quartet trained on a computer to undock Endurance from the Harmony module, reenter Earth's atmosphere, and parachute to a safe splashdown in the waters off the coast of Florida. Mann will command Crew Dragon Endurance with Cassada piloting the vehicle as Wakata and Kikina remain seated to either side of the astronauts. The quartet launched to the station on the SpaceX Crew-5 mission on Oct. 5, 2022.
Their replacements will arrive as the Crew-6 mission after it launches on Monday at 1:45 a.m. EST from the Kennedy Space Center in Florida. NASA astronauts Stephen Bowen and Warren "Woody" Hoburg will be the respective commander and pilot of Crew Dragon Endeavour. They will be flanked inside the vehicle by astronaut Sultan Alneyadi of the UAE (United Arab Emirates) and cosmonaut Andrey Fedyaev of Roscosmos. The foursome will dock to the space-facing port of Harmony module at 2:29 a.m. on Tuesday and live and work aboard the orbital outpost for six months conducting critical space research.
NASA TV, on the agency's app and website, will begin its live Crew-6 launch broadcast on Sunday at 9 p.m. Once the launch broadcast is over, live mission audio will stream until NASA TV resumes with its docking coverage set to begin at 12:45 a.m. on Tuesday.
A passengerless Soyuz MS-23 crew ship is also being readied for lift off at 7:24 p.m. on Thursday from the Baikonur Cosmodrome in Kazakhstan on a two-day trek to the space station. Besides delivering provisions for the crew, the Soyuz MS-23 spacecraft will return NASA astronaut Frank Rubio and cosmonauts Sergey Prokopyev and Dmitri Petelin back to Earth later this year.
The orbital residents also have been continuing their science and lab upkeep tasks during the busy visiting vehicle preparations. Rubio, with support from Wakata, installed an ultra-high temperature furnace inside the Kibo laboratory module. The specialized furnace enables safe observations of thermophysical properties of super-heated samples. Mann and Cassada took turns cleaning crew quarters in the overhead and deck portions of the Harmony module.
Prokopyev worked in the Roscosmos segment of the station checking the performance of a 3-D printer. Petelin worked on a pair of different experiments including a fluid physics study and space biology investigation. Kikina wrapped up operations for an Earth observation study and a carbon dioxide monitoring session.
---
Learn more about station activities by following the space station blog, @space_station and @ISS_Research on Twitter, as well as the ISS Facebook and ISS Instagram accounts.
Get weekly video highlights at: https://roundupreads.jsc.nasa.gov/videoupdate/
Get the latest from NASA delivered every week. Subscribe here: www.nasa.gov/subscribe